Shut . . . Up! Olivia Rodrigo's "Good 4 U" Outfit Is a Princess Diaries Reference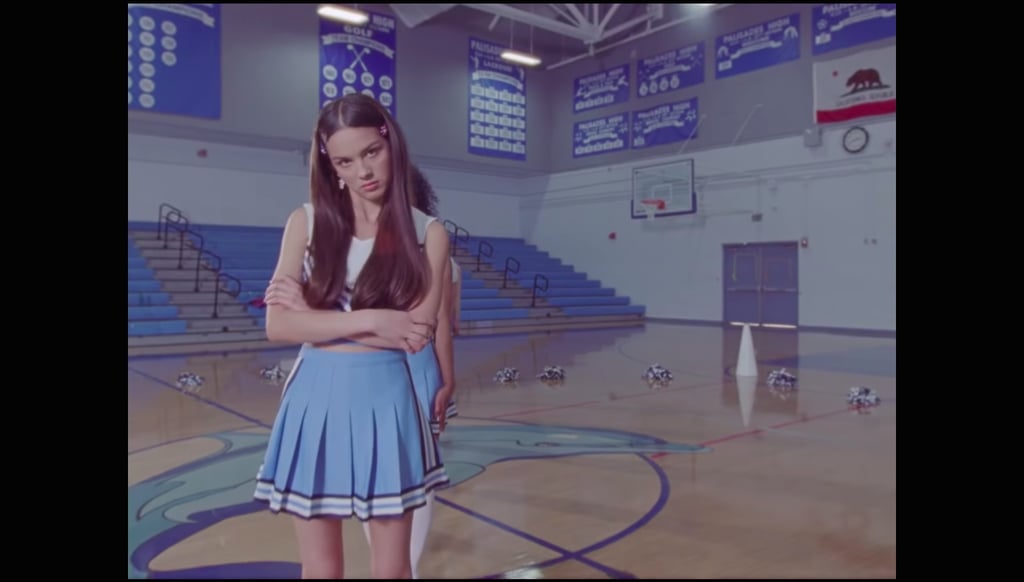 Olivia Rodrigo appears to have borrowed Lana Thomas's Princess Diaries costume — minus the chocolate ice cream stain courtesy of Mia Thermopolis. Ahead of her Saturday Night Live debut, the singer released the wonderfully bratty music video for her newest single, "Good 4 U." In addition to referencing horror films like Jennifer's Body and Audition, Olivia also pays tribute to the 2001 coming-of-age flick The Princess Diaries by wearing a pretty exact replica of the cheerleading uniform worn by Mandy Moore.
Styled by vlogger and Wildflower Cases co-owner Devon Carlson, Olivia starts out wearing the cheerleading uniform with playful hair clips and chunky sneakers, but she slips on a pair of elbow-length latex gloves as she progressively gets more enraged. In other vignettes throughout the video, Olivia wears a preppy cable-knit sweater layered over a button-up shirt, a corset paired with a plaid skirt, and loads of silver chain-link necklaces reminiscent of the Tiffany & Co. one that was ubiquitous in the 2000s. Take a closer look at all the nostalgic "Good 4 U" outfits ahead.
Source: Read Full Article