The Evolution Of Halle Berry's Hair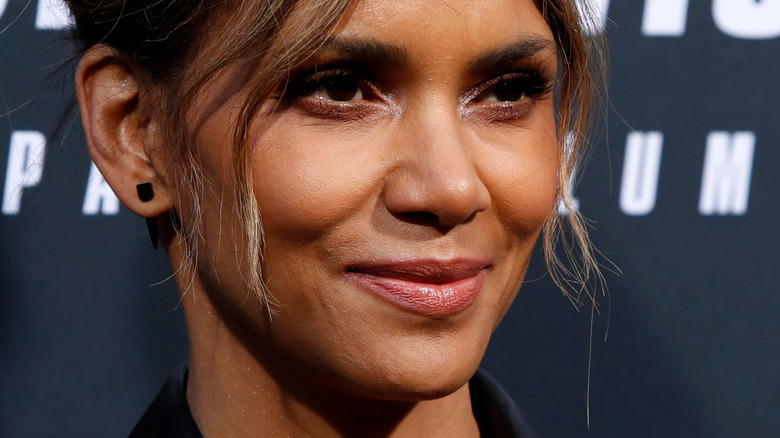 First she was runner-up in the 1986 Miss USA pageant, and later placed sixth in Miss Universe. Then 15 years later, she earned an Oscar: style icon Halle Berry.
The actor-model surprised naysayers when she transitioned from the model and pageant space onto the big screen. Starting her acting career as a crackhead in Spike Lee's "Jungle Fever," Berry's career grew to include roles in comic favorites "X-Men" and "Catwoman" and in the 2001 movie "Monster's Ball," for which she won an Academy Award.
A queen of the effortless put-together look, Halle Berry's hairstyles have both gone with the trends and started their own. Always pairing her newest hair with a classic smoky eye and nude lip, you'd be lying if Berry was not a source of fashion and style inspiration. We took a look at Berry's hair evolution, highlighting the key moments and trends during her time in the spotlight.
The iconic Halle Berry pixie cut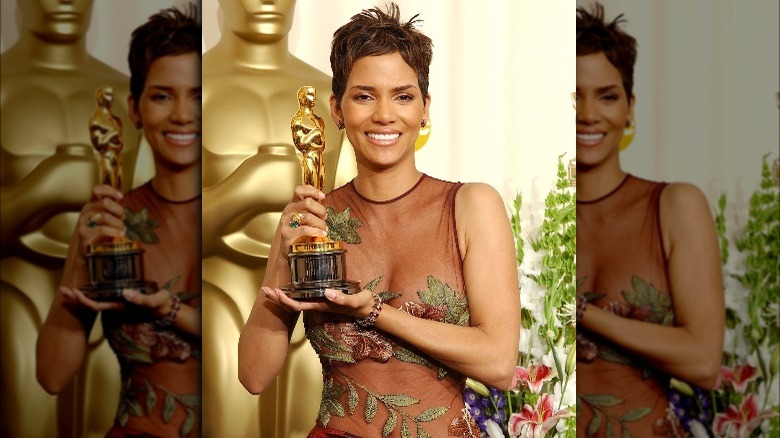 As Halle Berry's movie career took off in the '90s, the former Miss USA runner-up donned styles that drew focus to her natural beauty, from slicked-back buns to shorter cuts.
But it wasn't until the early 2000s that we were blessed with Berry's signature hairstyle — the pixie cut. Usually shorter in the back and sides with some length and volume at the top of the head, pixie cuts got their name from the mythological pixie fairy. A go-to style for Berry, she's tried several variations — from a short pixie cut to a long, asymmetrical style, and even to a pixie with bangs, per The Trend Spotter.
Halle Berry's pixie-cut peak moment of fame was at the 2002 Academy Awards, where she made history for being the first Black woman to win the Best Actress award for "Monster's Ball." Paired with an Elie Sab dress, Berry created one of the most iconic red carpet looks to this day (via W Magazine).
Curls throughout the decades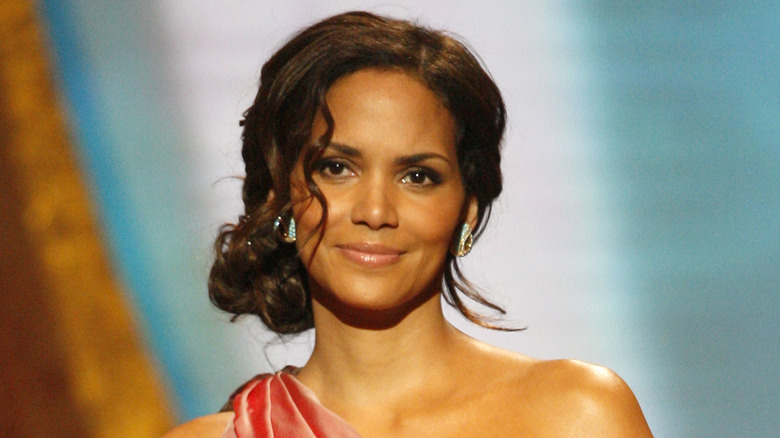 Throughout her years in the eyes of the media, Halle Berry has also embraced her curly hair. Rocking both her tight curls or looser, more styled beach waves, the 54-year-old knows how to rock the curly-haired look.
Berry is known to play with updos when her hair is curlier. A master of the low-ponytail, Berry rocked the effortlessly put-together look during the 2005 premier of "Robots," with low-rise jeans and a T-shirt; and during the 2006 Cannes Film Festival, she paired the hairstyle with a sparkly gown (via W Magazine). During the 2009 NAACP Image Awards, she styled her hair into an elegant updo featuring a low bun and a couple of stray, curled hairs that framed her face.
Rocking the short hair-with-curls hairstyle for the 2017 Oscars, Berry's "wild and free" look drove up Google searches for her name by 1,350% (via People). The voluminous curls were achieved by a combination of her natural curls and some diffusers.
Berry's bangs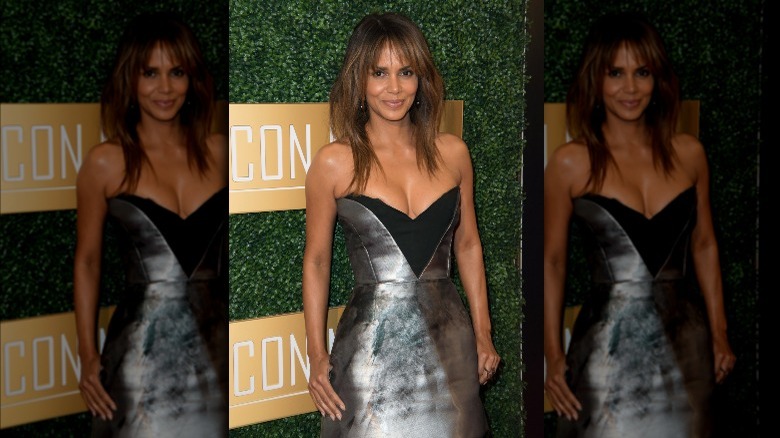 Before curtain bangs took over as the newest Gen Z hair trend, Halle Berry was wearing bangs regularly as part of both her short styles and longer cuts. Seen poking out of buns, mixing up a pixie, or styled carefree with loose hair, Berry has been a fan of bangs over the years, clearly approving of what they bring to her stylish 'dos.
During the 2014 Primetime Emmy Awards, Berry paired her signature pixie cut with long, straight bangs. She completed the look perfectly with a smoky eye and nude lips. And at the ESPY Awards the following year, Berry went for a more full bang look, and her hair had grown significantly. She showed off a wavy style with added highlights for the awards show (via W Magazine).
Whether side-swept, parted in the middle, or perfectly full and styled, Berry's bangs have complemented her natural beauty well.
A faux angled bob in 2021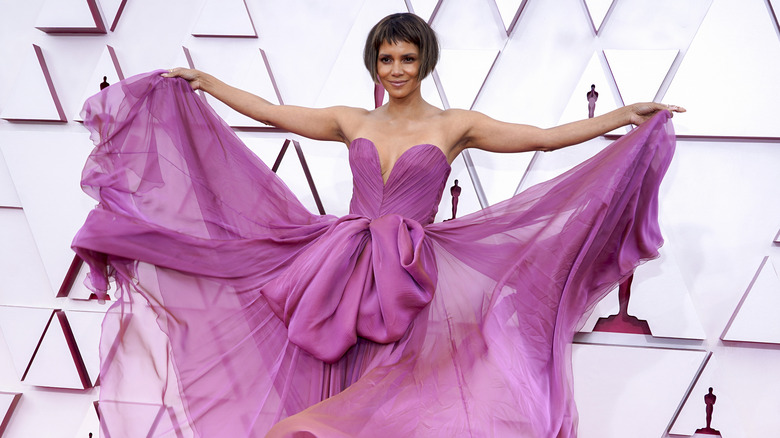 After a year of pandemic-induced lockdown and at-home haircuts, Halle Berry is ready for something new. The actor teased a drastic hair change through her Instagram stories shortly before the 2021 Academy Awards (via Allure). The final look had Berry as the ultimate cool girl, showing off a textured angled bob and tiny bangs that caused quite the stir on social media. A highly controversial trend, fans took to Twitter and quickly created memes of Berry's bangs. A good sport, Berry retweeted the memes, laughing and praising their creativity (via Twitter).
Largely an ode to her 2006 bob, Halle Berry's 2021 'do was a return to the familiar. Yet fans of Berry's shorter hair style may have to wait a bit longer. Just weeks after the Oscars, the "John Wick" star posted an Instagram selfie featuring her pre-Oscars shoulder-length lighter hair. Turns out Berry's short bob and tiny bangs were all thanks to a wig and some expert hair wizardry (via Us Weekly).
Source: Read Full Article