Doja Cat Fumes After Someone Edits Hair Onto Her Shaved Head
The 'Need to Know' songstress admits she is 'mad' after an Internet troll edited her picture to cover her nearly bad head with a wig, declaring that she will be taking a break from Twitter.
AceShowbiz -Eight months after debuting her shaved head, Doja Cat is still dealing with people who can't accept her for the way she is. The singer/raptress has been left enraged after someone recently edited her picture to cover her nearly bad head with a wig.
Seeing the edited photo, the "So High" songstress was clearly not happy. She took to Twitter on Friday, April 28 to lash out at the troll, writing, "saw somebody edit hair onto my head for this look i did last night and it made me mad so i wanted to let them know they should be making money instead."
Following her initial tweet, the 27-year-old announced her plans to take a break for from the micro-blogging app as she expects more taunting tweets and memes mocking her appearance in the wake of her complaint.
The Grammy winner wrote in the follow-up tweet, "im also aware of the ramifications of the last tweet and that I'll only be seeing edits of me with hair for the next 4 weeks so I'll be logging off / deleting twitter till my lead comes out."
She also cited a since-deleted tweet as "another reason why I'm not coming back for quite a while." She then bid a temporary farewell to her followers, adding, "Goodbye everyone have a nice time."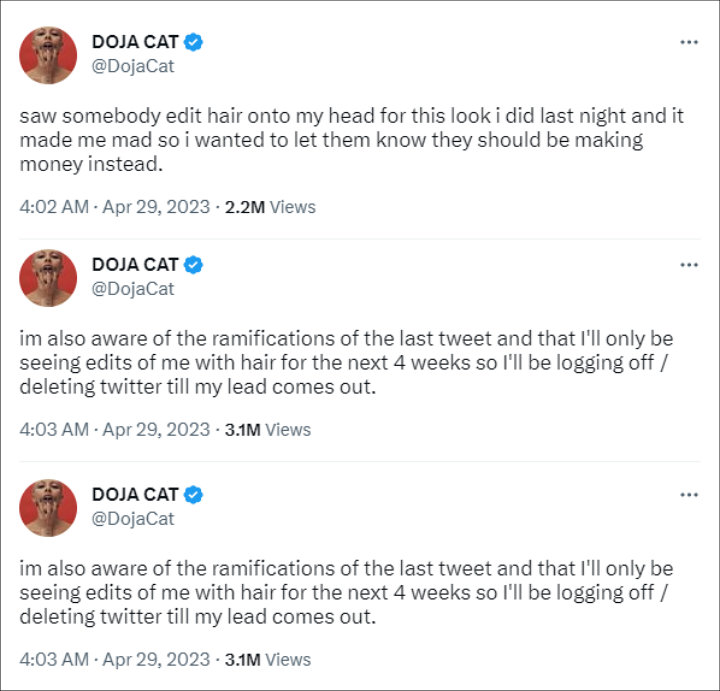 Doja Cat ranted on Twitter after someone edited hair onto her shaved head.
Many have since supported Doja and hit back at the Internet trolls. "People don't like to see growth," one person replied to the star's tweet. Another wrote to the "Kiss Me More" hitmaker, "Great advice."
Another gushed over Doja, "You are such a gorgeous bald woman." A fourth user slammed the haters, "do people realise that it's just hair and it's really not that big of an issue whether you have long or short hair ? there are bigger issues in the world."
"In other words she's telling y'all to get an EDUCATION AND GET SOME MONEY," someone mocked the trolls, while another fan said, "Ugh I loathe them for this!!!!!!"
Some others, meanwhile, didn't buy Doja's claim that she will be signing off from Twitter for the time being. "LMFAOOOO see u in 1 hour," someone wrote in response to Doja's announcement. Another joked, "see u in 2 minutes baldi."
Doja, however, has not posted anything since the last tweet she made on Friday.
You can share this post!
Source: Read Full Article