How Kate Middleton Just Honored Princess Diana
Princess Diana made headlines more than two decades after her death after Prince Harry told Oprah Winfrey (via CBS News), "I've got all my mom left me, and without that, we would not be able to do this," referring to how he and Meghan Markle were able to relocate to the United States. He added, "I think she saw it coming. And I felt her presence throughout this whole process."
Harry also partnered with Oprah to produce "The Me You Can't See" and shared some memories of Diana. "Unfortunately, when I think about my mom the first thing that comes to mind is always the same one, over and over again: Strapped in the car, seatbelt across. My brother in the car as well, and my mother driving and being chased by three, four, five mopeds with paparazzi on," he recalled, per Town and Country. The prince detailed how he tried to cope with Diana's death, stating (via The New York Times), "I was willing to drink, I was willing to take drugs, willing to try and do the things that made me feel less like I was feeling." 
Per BBC, 2021 also saw that Martin Bashir was found to have used "deceitful methods" to secure the infamous 1995 interview with Diana that led to a harrowing sequence of events. Both Harry and Prince William released scathing statements after the finding. Luckily, Kate Middleton just reminded us about the more glamorous side of the people's princess.
Kate Middleton channels Princess Diana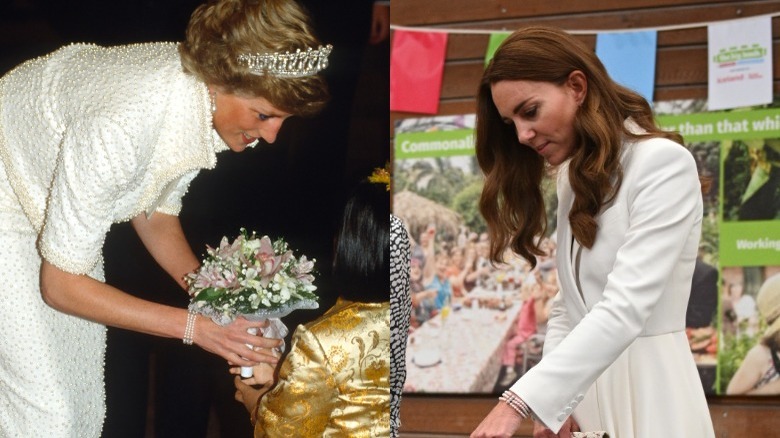 Kate Middleton is often compared to Princess Diana, like the time she channeled her mother-in-law by wearing a blue blazer and pleated midi skirt. This time around, Kate wore an exquisite piece of jewelry that seemingly belonged to Lady Di, per Us Weekly. At the G7 summit on June 11, she wore a three-strand pearl and diamond bracelet that perfectly complemented her elegant cream Alexander McQueen coat dress, per Harper's Bazaar.
Kate wore the classic bauble while spending an afternoon with Dr. Jill Biden, where they fed bunnies and met some students. Apparently, Kate has only been seen wearing the bracelet on two occasions before donning it to meet the world leaders — while touring Berlin and Sweden in 2017 and 2018, respectively. Diana wore the bracelet on various outings, including her tour of Hong Kong in 1989.
Catherine, the Duchess of Cambridge, also referred to Princess Diana's namesake in June. Daily Mail reported that when journalists asked her if she had already met Lilibet Diana, Prince Harry's daughter, Kate replied, "I wish her all the very best, I can't wait to meet her because we haven't met her yet, so hopefully that will be soon." Hopefully, Lilibet Diana will help to reunite her shattered family. According to Express, Kate may also be instrumental in bringing the brothers back together again — for Diana's sake.
Source: Read Full Article