Jennifer Lopez and Her Family Spoke Candidly On Her Divorce From Marc Anthony In 'Dance Again' Tour Documentary
Jennifer Lopez's love life has been quite eventful. From her and Diddy's whirlwind romance – to being engaged to one of the most sought after Hollywood bachelors in her time with Ben Affleck – and now to her engagement with Alex Rodriguez, which Lopez is sure will be the marriage that lasts a lifetime.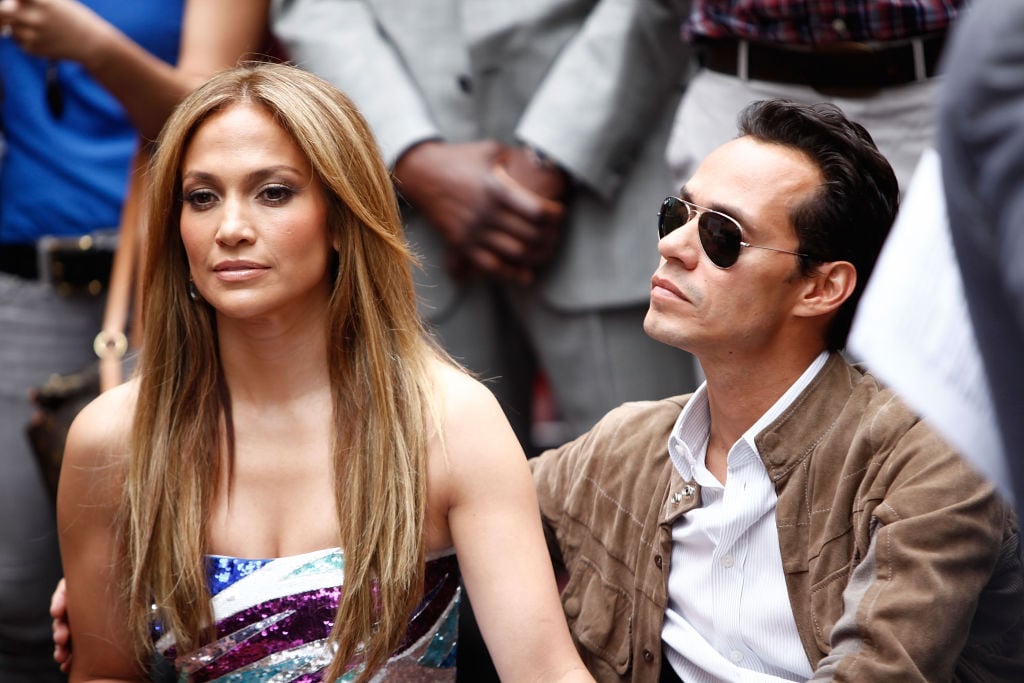 But before Rodriguez, Lopez's longest relationship was with her ex-husband, singer Marc Anthony. The two split after seven years and Lopez says it was one of the hardest times in her life. In a resurfaced YouTube clip from her "Dance Again" Tour, Lopez and her family opened up about the toll her divorce had on her. 
Jennifer Lopez and Marc Anthony's marriage and divorce
The relationship between Lopez and Anthony was swift. Lopez announced her split from Affleck in January 2004 not long after they called off their engagement. In June of the same year, Lopez and Anthony wed in a private ceremony at her Beverly Hills home just a month after Anthony's divorce was finalized.
The two merged their careers with joint tours and even a film with the 2006 biopic, El Cantante. In 2007 while on stage in front of a crowd of 10,000, the couple announced they were expectant parents. Lopez gave birth to their twins, Max and Emme, in February 2008.
They seemed like the perfect match, renewing their vows just months after the birth of their twins. Lopez and Anthony walked arm and arm along red carpets and constantly gushed about one another. But just weeks before they announced their split, Lopez gave what many perceived to be a grim answer to Latina Magazine about their marriage.
"I believe in destiny and I believe that things are going to be what they're gonna be and for whatever reason, we were meant to share this time together," she said.
They announced their split about two weeks after the interview. Lopez later admitted that she spent years in marriage she says she was not happy in but did not want to break up her family. She told The Today Show in 2016 that forgiving Anthony after their breakup was difficult because she never imagined that she'd be divorced again. 
Jennifer Lopez and her family talk about how hard the divorce from Marc Anthony was in 'Dance Again'
Lopez poured herself into her work in the aftermath of her split from work. While it was a welcomed distraction, her divorce weighed heavily on her. "Work is a blessing and a curse," she admitted. "I remember being on the set and being in my dressing room and not feeling like I could get up in the morning."
She especially felt guilty for her children being raised with divorced parents. "That wasn't my dream, my dream was for us to always be together," Lopez said. "You never want to break up a family."
She retold a story to the camera crew about her daughter buying a heart-shaped necklace to remember her father when he's not around, as Anthony and Lopez were no longer living together. The story led Lopez to tears. 
Lopez's sister, Lynda, revealed that everything behind the scenes in Lopez's marriage was not a fairytale. 
"Things were in such a great period in her life. American Idol was fantastic, the On The Floor album came out," Lynda explained. "She wanted to plan a tour. There was so much that was going well at work and her career and that all was coinciding with things going not good at home and not good for her personally."
Lynda said that Lopez's split from Anthony devastated Lopez because she'd waited longer than most to have children to ensure the man she had children with be her lifelong partner. When they split, Lopez felt that she failed.
Lopez and Anthony were eventually able to get to a peaceful place, thanks to their children. They even famously kissed at a Spanish award show in 2016 where Anthony was being honored for his music. Like Lopez, Anthony moved on and remarried, but his marriage ended in 2017.
Source: Read Full Article