Jessica Mulroney Lets Out Cryptic Post Following Prince Harry's Latest Interview With Oprah Winfrey
After the Duke of Sussex dropped another bombshell on 'The Me You Can't See', the stylist and good friend of Meghan Markle shares a message that reads, 'speak out for what you believe in when you are ready.'
AceShowbiz -Jessica Mulroney may have some words to say regarding Prince Harry and Meghan Markle. After the Duke of Sussex made another revelation related to the British royal family in his latest interview with Oprah Winfrey, the good friend of the Duchess of Sussex let out a cryptic post on social media.
The 41-year-old fashion stylist offered her message on Instagram Story on Saturday, May 22. It read, "Speak out for what you believe in when you are ready. No matter how loud the other voices are, yours is the only one that should matter."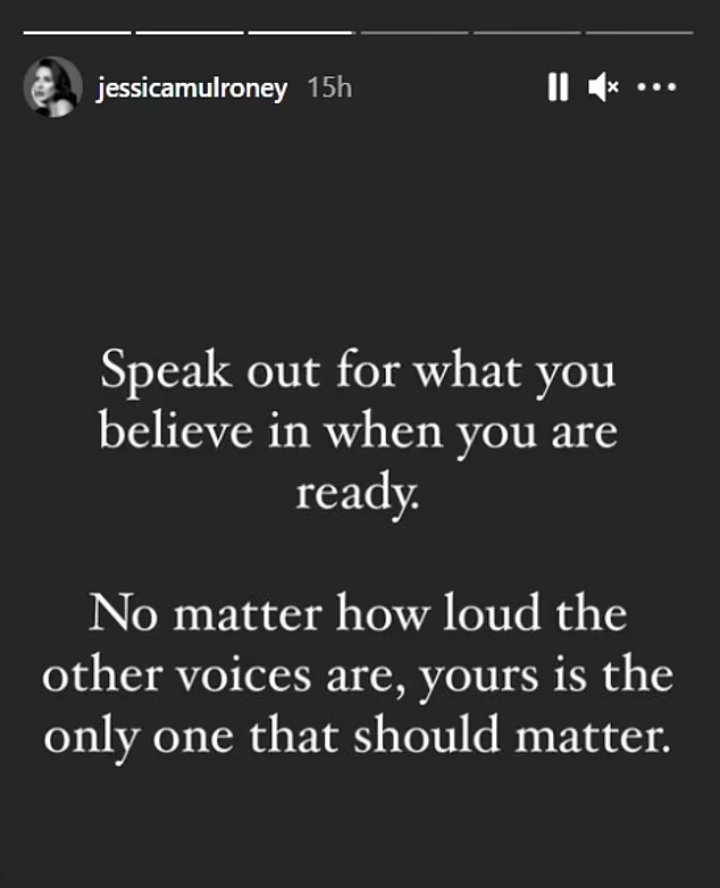 Jessica Mulroney shared a cryptic post following Prince Harry's latest interview with Oprah Winfrey.
Jessica and Meghan have been close friends for a decade after meeting in Toronto. Although they were rumored to have been distanced following the former's tone-deaf "white privilege" remarks in June 2020, the Canadian native clarified in September that she and the former "Suits" star remain friends.
Jessica also showed support for Meghan in early March this year after the latter was accused of bullying. "I don't know that anyone has ever had to deal with the pressure, the politics and the press like this woman. In the face of it all, I have never seen her waver from kindness, empathy and love," she penned on Instagram alongside a picture of the two.
Jessica's May 22 post came shortly after Harry and Oprah's "The Me You Can't See" was premiered on Apple TV+. On the docuseries, Harry told Oprah that the royal family refused to help his wife when she was suicidal.
"I thought my family would help, but every single ask, request, warning, whatever it is, just got met with total silence, total neglect," the 36-year-old divulged. "We spent four years trying to make it work. We did everything that we possibly could to stay there and carry on doing the role and doing the job. But Meghan was struggling."
During the conversation, Harry also spilled the reason why Meghan did not take her own life. "The thing that stopped [Meghan] from seeing it through was how unfair it would be on me after everything that had happened to my mum," he explained. "And to be in a position of losing another woman in my life with a baby inside of her, our baby."
Source: Read Full Article