Prince Andrew Reemerged After Three Months Away From the Public Eye
Okay, team, it's time to break down some ugly royal news. In case your royal knowledge is limited to the Fab Four, you're not alone, but you may have missed the huge scandal involving Prince Andrew and convicted sex offender Jeffrey Epstein. Epstein allegedly died by suicide in August while in custody and awaiting his trial for charges of sex trafficking and conspiracy to engage in sex trafficking. In the wake of his death, more and more information about his relationship with Prince Andrew surfaces each day, and a U.S. prosecutor says that Andrew isn't cooperating at all in the country's sex-trafficking investigation.
Here's everything you need to know about Epstein and Prince Andrew's connection, why Andrew just stepped down from royal duties, what prosecutors are saying now, and why Andrew reemerged from after three months.
Sometime in 1999
Prince Andrew said he met Epstein for the first time in 1999 through Epstein's girlfriend, Ghislaine Maxwell. From then on, their "paths crossed several times," including when Prince Andrew flew to Epstein's private island with him and when the royal invited Maxwell to a party at Windsor Castle in June 2000. Maxwell then invited Epstein as her plus-one, according to Prince Andrew.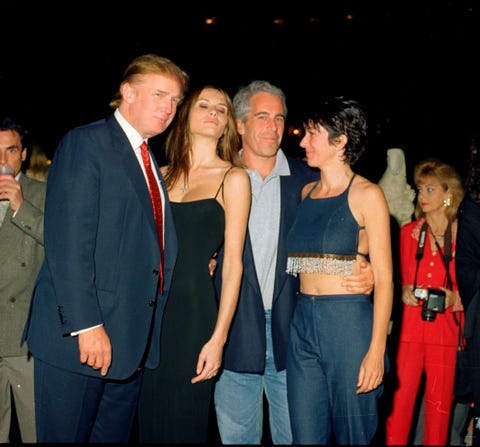 August 2006
Epstein was charged with soliciting prostitution from a minor in 2006, the same year Prince Andrew invited him to Princess Beatrice's 18th birthday. (Prince Andrew said he didn't know about "what was going on in the United States" at the time.)
December 2010
After Epstein served 13 months in prison, Prince Andrew met with him in Central Park. In a recent interview with BBC, the royal claimed he did so because he wanted to cut ties with Epstein. He claims he told the financier, "Look, because of what has happened, I don't think it is appropriate that we should remain in contact."
That said, he later stayed in Epstein's mansion, which BBC asked him to elaborate on during an interview in November 2019. For Prince Andrew, it was apparently just a "convenient place to stay." Interesting….
August 10, 2019
Legal documents related to Epstein's case were unsealed on August 10, and according to The Guardian, they contain allegations that Epstein directed then-17-year-old Virginia Giuffre into sexual encounters with Prince Andrew, who was friends with Epstein. Court documents also contain a photo that shows Prince Andrew with his arm around Giuffre and Maxwell, a socialite who is accused of "procuring underage girls for Epstein" in the background.
The documents also show that another women, Joanna Sjoberg, claims to have had a sexual encounter with Prince Andrew because of his relationship with Maxwell and Epstein. A document filed in 2017 states, "Ms. Sjoberg also testified about sexual acts that occurred with her, Prince Andrew, and Ms. Giuffre, when she and [Maxwell] were staying at Epstein's Manhattan mansion." Sjoberg also details an incident where Andrew groped her breast.
However, it's worth noting that some of these accusations against Prince Andrew surfaced back in 2015, and at the time, the palace vehemently denied any wrongdoing, stating, "Any suggestion of impropriety with underage minors is categorically untrue."
Furthermore, when asked if Andrew had any response to Epstein's death, Daily Mail reports that the palace replied, "This relates to proceedings in the United States, to which the Duke of York is not a party."
August 19, 2019
Buckingham Palace released a statement concerning the charges against Epstein. It said:
This was the first time the royal publicly acknowledged Epstein since he allegedly died by suicide.
November 16, 2019
In the previously mentioned interview with BBC, Prince Andrew addressed his relationship with Epstein and said he regretted being friends with him even after he went to prison. Admitting he let the royal family down, he explained:
"It was not something that was becoming of a member of the Royal family… I let the side down."
Prince Andrew speaks exclusively to #Newsnight about his decision to stay with convicted sex offender Jeffrey Epstein https://t.co/Jo2mHaTrPi
WATCH: Saturday 21:00 @BBCTwo @maitlis pic.twitter.com/jZzpj7RwBe
Also, before the interviewer had to remind him that Epstein was a sex offender, Prince Andrew described his former associate's behavior as "unbecoming." Even more shocking, for some reason, he also thought being friends with Epstein after he went to prison for sex crimes was "the honorable and right thing to do." Please do not ask me why! I am at a loss for words, honestly!
"It was definitely the wrong thing to do. But at the time I felt it was the honourable and right thing to do."
The Duke of York speaks to #Newsnight about his links to Jeffrey Epstein and his decision to stay with him https://t.co/78O1778YJx
WATCH TONIGHT 21:00 @BBCTwo @maitlis pic.twitter.com/EUgNQBZosA
Also in this interview, Prince Andrew responded to Giuffre's claims that she was forced to have sex with him three times. He said, "I have no recollection of ever meeting this lady, none whatsoever."
"I have no recollection of ever meeting this lady."
The Duke of York has spoken for the first time about his links to Jeffrey Epstein and the allegations against him https://t.co/iFQiJLuKCa
FULL INTERVIEW: TONIGHT, 21:00 @BBCTwo with @maitlis#Newsnight pic.twitter.com/qrDJwbH2YZ
Ultimately, Prince Andrew really just wants everyone to believe that he and Epstein "weren't that close."
November 20, 2019
Prince Andrew stepped back from royal duties. According to royal correspondent Rebecca English, this will be the case "for the foreseeable future." Prince Andrew also cited his "ill-judged association with Jeffrey Epstein" for interfering with the royal family. He added, "I am willing to help any appropriate law enforcement agency with their investigations, if required."
Breaking: Prince Andrew steps back from public duties #Epstein pic.twitter.com/EY5GjrlwtB
November 21, 2019
Giuffre's lawyer, Sigrid McCawley, commented on Prince Andrew's step back from royal duties in a statement to People. McCawley said:
December 2, 2019
Giuffre gave an interview to BBC's Panorama program and responded to Prince Andrew's statements. In short, she thinks it's a load of BS. She said, "I mean, come on. I'm calling BS on this because that's what it is. He knows what happened. I know what happened, and there's only one of us telling the truth, and I know that's me." She also called on the people of the United Kingdom to support her and "fight this fight."
"I'm calling BS on this, because that's what it is."
Prince Andrew says he has no recollection of meeting Virginia Giuffre, nor of any photo being taken with her and he emphatically denies he had any form of sexual contact or relationship with her. pic.twitter.com/aqQ76kpPHI
In response to Giuffre's interview, Buckingham Palace released two statements. The first brought up Epstein's alleged death by suicide and expressed sympathy for "those affected who want some form of closure." In the second, the palace maintained, "It is emphatically denied that the Duke of York had any form of sexual contact or relationship with Virginia Roberts. Any claim to the contrary is false and without foundation."
December 3, 2019
During a press conference, Trump was asked to comment on the ongoing scandal. Trump claimed he "doesn't know" Prince Andrew and added, "It's a very tough story." That said, there are several pictures of the two being photographed together in June at Westminster Abbey.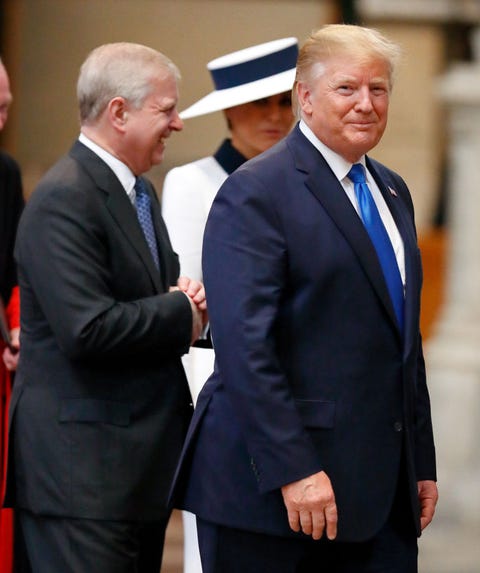 And here's one from February 2000.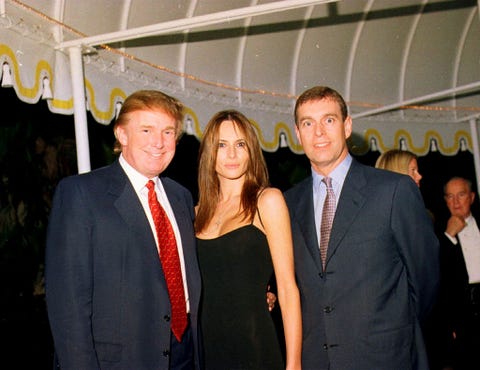 December 7, 2019
Daily Mail reported that Princess Beatrice had an engagement party scheduled in London but "had to change the date of her engagement party at the Chiltern Firehouse because of fears there will be too many photographers outside—looking for him [Prince Andrew]."
December 11, 2019
Prince Andrew's ex-wife and current housemate, Sarah Ferguson, spoke with Vogue Arabia about how she thinks she and Meghan Markle have been through the same struggles. In that same interview, she said only three words about the scandal: "It's incredibly difficult." Vogue described her delivery as "blunt honesty that makes her thoroughly endearing; she has nothing to hide."
December 12, 2019
In an appearance on the Today show with Matt Lauer, Sarah Ferguson defended Prince Andrew and called him a "humongously good man." She said, "I won't stand by, because I know what it feels like to have salacious lies made up about you….They are just shockingly accusatory allegations, which I don't think is right."
December 23, 2019
Although Princess Beatrice postponed her engagement party, which Prince Andrew actually didn't attend because of this scandal, her father will reportedly still walk her down the aisle. A People source said, "I definitely think he will walk her down the aisle. He plays a very traditional role in her life. She's his greatest supporter." Uh, very interesting considering he didn't go to the engagement party because it wasn't a "good look."
January 15, 2020
Giuffre tweeted about being abused and included a picture that featured Naomi Campbell. She wrote, "You saw me at your parties, you saw me in Epstein's homes, you saw me on the plane, you saw me get my haircut, you saw me on the streets, you watched me be abused. You saw me!"
You saw me at your parties, you saw me in Epstein's homes, you saw me on the plane, you saw me get my haircut, you saw me on the streets, you watched me be abused. You saw me! 🦋#Awareness #Justice #GhislaineMaxwell #JeffreyEpstein #NaomiCampbell #PrinceAndrew pic.twitter.com/5TNWvG1eAA
In August, Campbell addressed her connection to Epstein after a Daily Mail article claimed she is "very rum chums" with "a hair-raising cast of characters" including Harvey Weinstein and Kevin Spacey. Campbell told the interviewer that Daily Mail's story was a "direct character assassination" and explained, "Yes, I knew him [Epstein]. I was introduced to him on my 31st birthday by my ex-boyfriend Flavio. He was always front and center at Victoria's Secret fashion shows." She said she didn't know what he was allegedly doing and added:
January 27, 2020
A top U.S. prosecutor has come forward and said that Prince Andrew has not been cooperating in the country's sex-trafficking investigation against Epstein, even though Buckingham Palace said he would.
The Associated Press reported Monday that U.S. Attorney Geoffrey Berman said prosecutors and the FBI had both contacted Andrew's lawyers and asked to interview him, but "to date, Prince Andrew has provided zero cooperation."
January 30, 2020
Apparently, Queen Elizabeth and Prince Charles held an emergency meeting at the palace after a U.S. prosecutor alleged Prince Andrew hasn't been cooperating with them.
A "royal source" said, "Both had hoped the Duke of York could perhaps be rehabilitated back into public life in time but that is now looking increasingly unlikely."
April 10, 2020
After three months away from the public eye, Prince Andrew packed donations for hospice workers with Sarah Ferguson at their Windsor home and they later went to a facility to pass them out.
(Prince Andrew did attend a memorial for Sir Malcolm Ross last month but that wasn't official business and was never publicly acknowledged by the royal fam.)
Source: Read Full Article