Prince Harry and Meghan Markle Are Allegedly Trying for a Second Baby in 2020
Hello, Prince Harry and Meghan Markle fans! Today is the most wonderful day for you, because I come bearing exciting news concerning your favorite royal couple. *Taylor Swift voice* Are you ready for it?
Us Weekly just reported that Meghan and Harry are allegedly hoping to have a second baby in the upcoming year of our Lord 2020. Yay, more royal babies!!! "Their family is their number one priority," the source said after confirming.
Naturally, expanding the fam aligns with that pretty well, but let's all agree to take this report with a huuuge grain of salt unless the Sussex fam confirms themselves, okay? Before you start being weird and examining Meghan like a hawk, know that another source said that while they want to have another baby, Meghan definitely isn't pregnant yet. While we wait for more news, here is everything that she, Harry, and ~royal~ news outlets have said about a possible Baby Sussex Number Two. Enjoy!
Harry has been asking people what it's like to have two kids.
Earlier this month, Meghan and Harry made a surprise appearance at an Army wives event to honor families of deployed servicemen and servicewomen. And of course, since Harry and Meghan are friendly and love to chat it up, they started asking the families some questions.
Apparently, Harry was really keen to know how things are with second children, which is eyebrow-raising, just sayin'. "Having our baby so close in age to their baby, I think they were keen to chat," Susie Stringfellow, a mother at the event, told Forces Network. "Harry was really quite interested in how things were with second children as well, because we both have older children. And we were trying to encourage him to have a second baby."
Harry openly admitted he wants two kids max.
This means Baby Sussex Number Two could very well be the last of the Sussex children, but of course, we'll take that with a hefty grain of salt. In Meghan's guest-edited issue of British Vogue, Harry sat down with primatologist Dr. Jane Goodall and talked about climate change. The topic of our rapidly changing environment got Harry talking about Archie and had him quantifying the amount of kids he wants too!
"What we need to remind everybody is: These are things that are happening now. We are already living in it," Harry said. "We are the frog in the water and it's already been brought to the boil. Which is terrifying."
Dr. Goodall replied, "Happening and happened. It is terrifying. Especially as you've just had a baby."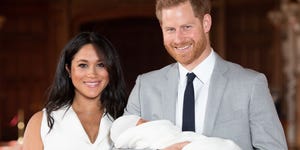 "I know," Harry replied with a laugh. "It does make it different. I think, weirdly because of the people that I've met and the places I've been fortunate enough to go, I've always had a connection and a love for nature. I view it differently now, without question. But I've always wanted to try and ensure that, even before having a child and hoping to have children…"
"Not too many!" Dr. Goodall cut in.
"Two, maximum!" Harry said, causing me (and everyone else on the internet, TBH) to spiral. TWO. KIDS. MAX!!!
Princess Diana's former assistant thinks a new Sussex baby is coming "very soon."
Paul Burrell, Princess Diana's former assistant, spilled alllll the tea to Life & Style about a future Sussex baby, along with an outline of all the reasons he thinks Meghan will get pregnant sooner rather than later.
"I think that Meghan will have a baby very soon," he said. "(A) The clock's ticking. (B) She wants at least two children. And (C) Have you not noticed the way she knots everything in front of her belly and tries to hide her tummy?"
Okay, let's be real, some of what he said is kinda weird, but go off, I guess? "Watch this space. It won't be long before you hear that Meghan is having another baby," Paul added.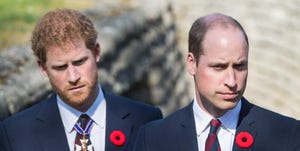 Oh, but that's not all from Paul—he thinks Prince William and Kate Middleton will also have another baby (number four!!) at the same time as Meghan and Harry. Imagine the drama, given the never-ending saga that is the royal rift! "That'd be four babies for Kate and William. It wouldn't surprise me if Kate and Meghan were pregnant at the same time next year," he said.
Meghan and Harry allegedly talked about having more kids right after Archie was born.
Literally one (1) whole day after Meghan gave birth to Archie, People reported that she and Harry had already discussed wanting to have a second baby. "They definitely want to [have another]. Meghan has talked about having one more," their source revealed.
At the time, Harry was completely over the moon about becoming a father and was (and still is!) happy to start a family of his own. "He's always enthusiastic with children, and now he will have his own little world that he has dreamed of for a long time," the source added. How sweet! :')
But No Matter What You Hear, Meghan Definitely Isn't Pregnant
On December 11, an Us source fully refuted any and all claims that Meghan is currently pregnant. So everyone can chill out until the next inevitable and speculative report.
Sadly, this is all we know for now, but be sure to check back here for any and all Baby Sussex Number Two updates.
Source: Read Full Article