Richard Marx Hits Back at Senator Rand Paul After Being Accused of Inciting Violence
The 'Right Here Waiting' hitmaker was suggested by the Republican senator from Kentucky to be the reason behind him receiving a suspicious white powder letter at his home.
AceShowbiz –Richard Marx is not backing down from voicing his mind publicly about Kentucky Senator Rand Paul. Having been accused of inciting violence against the member of the Republican Party, the "Right Here Waiting" hitmaker hits back with criticism at the politician's behavior amid the COVID-19 pandemic.
On Monday night, May 24, Richard tweeted a link to a March 2020 article about Rand attending lunch meeting and using Senate gym while being infected with the coronavirus. Along with the link, the 57-year-old singer inquired, "You know who actually put multiple people's lives at potential risk?"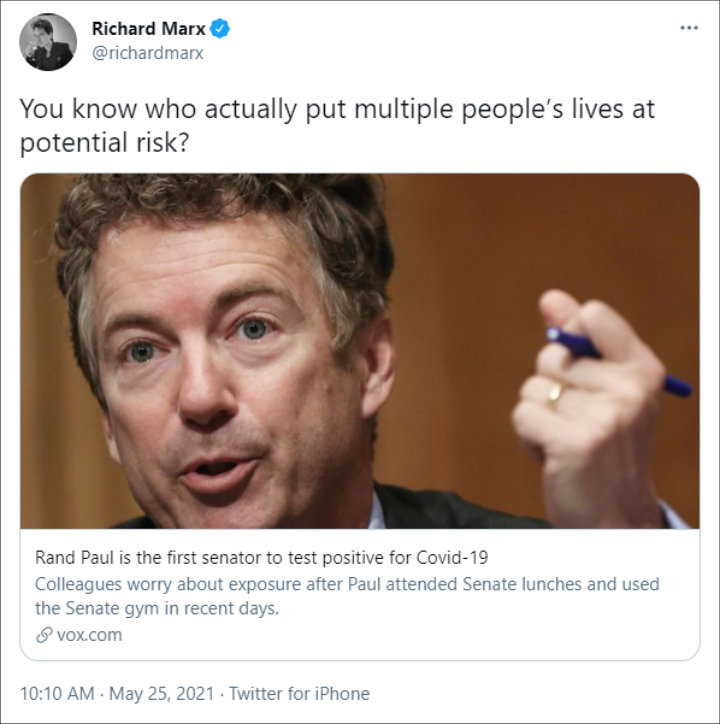 Richard Marx hit back at Senator Rand Paul's accusation that he incited violence.
Earlier that same day, Rand was reported to have received a suspicious letter at his Kentucky home. Fox News claimed that the letter was filled with white powder and featured a picture of the senator battered and bandaged with a gun to his head. The text accompanying it read, "I'll finish what your neighbor started you motherf****r."
U.S. Capitol Police confirmed that "a letter containing a powdery substance was sent to the Kentucky home of Senator Rand Paul," adding that the local sheriff's office, the USCP and FBI were notified of it. In its statement, the agency continued, "An initial test determined the substance is not dangerous. As a precaution, it was taken to an FBI lab for further testing. Both federal agencies are investigating."
Rand himself has issued a statement regarding the matter. "I take these threats immensely seriously," he stated. "As a repeated target of violence, it is reprehensible that Twitter allows C-list celebrities to encourage violence against me and my family. Just this weekend Richard Marx called for violence against me and now we receive this powder filled letter."
The son of Ron Paul was referring to Richard's Sunday tweet that read, "I'll say it again: If I ever meet Rand Paul's neighbor I'm going to hug him and buy him as many drinks as he can consume." The singer was referring to the 2017 incident where Rand was left with five broken ribs and bruised lungs after being assaulted by Rene Boucher.

Richard Marx made a reference about Senator Rand Paul's 2017 incident.
On Tuesday, Rand complained about Twitter policy when talking to "The Story" host Martha MacCallum. "Twitter claims they have a policy but they don't take it down. They leave it up," he said. "Twitter now announced today this guy doesn't violate their policy. So he's allowed to offer to buy drinks to somebody…you know, I almost died at that time from the infections and from the lung surgery that I had. And they are allowed to get on Twitter…."
Source: Read Full Article