Tim Tebow Grieved Death of Dog Bronco in the Best Way Possible
Tim Tebow is one of the more popular and polarizing athletes in the NFL's history. He had a short career that was at times maddening but at other times brilliant. One thing fans will always remember about Tebow is his ability to approach the game with a positive attitude.
Tebow's positivity was tested in recent months when his dog passed away. While the loss of a pet can test anyone, Tebow and his wife responded about as well as anyone could in that situation. Let's take a closer look at how Tim Tebow decided to grieve the death of his dog, Bronco, in the best way possible.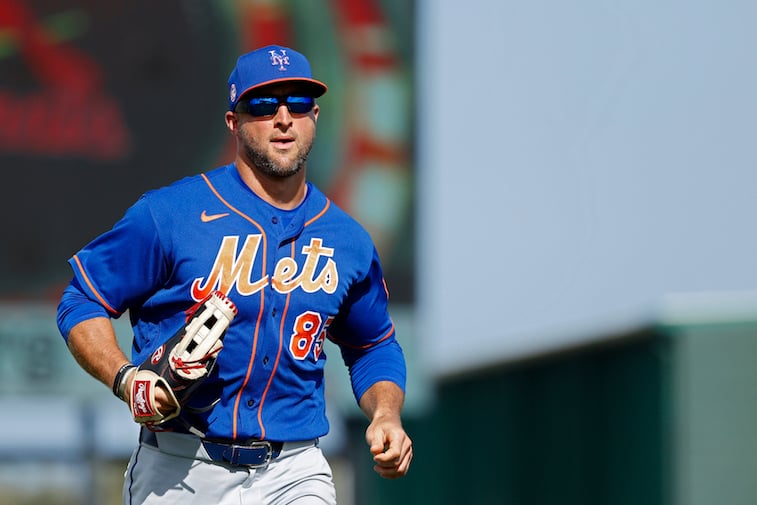 Tim Tebow career overview
Tebow was one of the greatest college football players of all time, winning multiple championships for the University of Florida Gators. He wasn't a conventional, pro-style quarterback, however.
There was controversy over where he'd go in the NFL Draft. Ultimately, the Denver Broncos selected Tebow with the 25th overall pick in the first round of the 2010 NFL Draft. 
The highlight of Tebow's pro career was the 2011 season with Denver. He led them to a 7-4 record in games he started and a playoff berth. Despite not being a traditional, prototypical quarterback, Tebow rode the Broncos' unconventional offense all the way to the postseason.
Even though he managed a playoff appearance, the team traded Tebow in favor of newly signed free agent Peyton Manning after the 2011-2012 season. He couldn't catch on with the New York Jets and was out of football shortly thereafter. 
Tebow's time in Denver didn't end well, but he still had at least one great season there. And he did have another lasting connection to the city and franchise: he got a dog during his time in Denver and named it after the team.
The death of Tim Tebow's dog Bronco
Sadly, late last year Tebow was forced to put down his long-time dog Bronco. The former Denver quarterback had the dog since 2010, so he'd been with him for the past decade. Tebow posted a video to Instagram of him feeding his beloved pet his last meal.
Afterward, Tebow posted a photo of the pup's gravesite to Instagram as well and thanked his fans for the love and condolences they'd sent after hearing about Bronco's passing. 
"One of the toughest goodbyes…Wanted to make a special tribute to the sweetest boy ever – thank you for all the joy you brought and all the memories."
Anyone who's ever had a dog before knows that saying goodbye is the hardest part of pet ownership. That's why the way that Tebow and his wife chose to respond to Bronco's passing is all the more positive and uplifting.
How Tim Tebow is grieving his dog Bronco in the best way possible
While Tebow's dog was impossible to replace, that doesn't mean he couldn't show love for a new set of puppies. That's what he and his wife decided to do to help them cope with the loss of Bronco. Tebow and his wife welcomed three new dogs to their self-described "Tebow Pack:" Paris, Chunk, and Kobe. Tebow posted individual posts to Instagram introducing each one to his followers.
It's never easy to lose a beloved dog. It hurts, and one can never truly replace the hole left in your heart when they pass on. But by welcoming three new dogs into his family, Tebow and his wife are transferring the love they gave Bronco to three other animals who now have a loving home.
It's the best way possible to grieve the loss of his beloved pet — make the world better for three new dogs. 
Source: Read Full Article