Venus and Serena Williams' Father Richard Williams Protected the Tennis Court From Gangs With a Shotgun
There's no mention of tennis without the most famous siblings in the sport, Venus and Serena Williams. The two learned from their dedicated father, Richard Williams, the main subject in the forthcoming feature-length biopic, King Richard. The film, starring Will Smith and Liev Schreiber, chronicles Richard's life and how he coached his two daughters into the successful icons they've become.
Who is Richard Williams?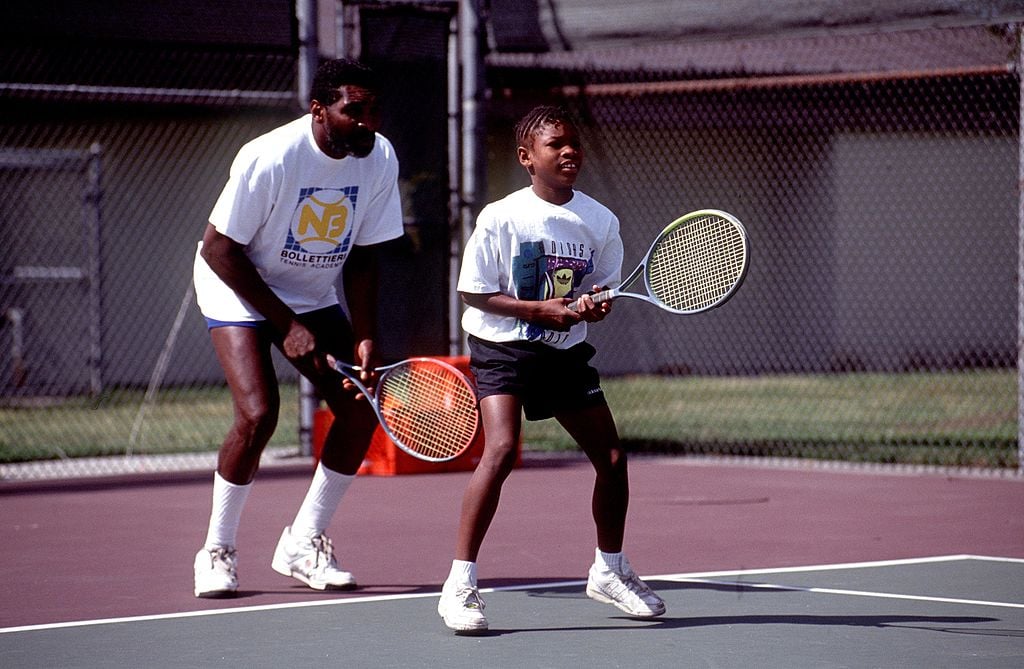 As one of five children, Richard was born in Shreveport, Louisiana, where he picked cotton in his youth. Richard detailed in his 2014 memoir, Black and White: The Way I See It, the poverty and violence he suffered at just five years old when a white man attacked him. That wasn't the only time the tennis coach faced racism.
The tennis coach described his living environment as "a three-room shack on East Seventy-Ninth Street, next to the railroad tracks," adding, "the house was so raggedy a strong wind could have blown it down." He used the money he earned to help make ends meet, which included making sacrifices.
"I used to go out in the woods and hunt bullfrogs to eat, and fish, and shoot rabbits, and steal chickens. One day, I bought some meat from the market and found maggots in it," he wrote. "It was winter, and we were so hungry I could not force myself to throw it away. I cooked it, maggots and all. It wasn't the first time we ate tainted or spoiled meat. We couldn't throw anything away, not even bad meat."
Richard Williams endured a lot of racism growing up
He later began stealing and, by twelve, started a garden to sell produce from a farm stand, and a year after, he had enough to move his family into a better home. Richard also details a haunting story about a boy called "Lil Man" whose body was found hanging from a tree in the most horrendous of hate crimes by the Ku Klux Klan.
Richard later found himself embattled with the group while his father, as he stated, stood by and did nothing to help. It's a wound he said he would never heal from.
"The world may now see me as a famous man in control of his destiny, but no one knows how much my early life defined me as a child, and later, as a husband and a father," he wrote. "As early as I remember, I hated my name because my father's love did not come with it. It would always remind me of the man who left me alone, who abused my mother, and who put me way behind the starting line in the race of life."
After Chicago, he packed up and moved to California, where he met Venus and Serena's mother, Oracene Price. After Venus's birth, they moved to Michigan, where they welcomed Serena. From there, it was back to California.
While watching The French Open on TV, Richard became intrigued by the prize winnings, according to Biography.com. He dedicated his life from there on out to raising the world's best players. Venus's first real lesson was at age 4, while Serena followed closely behind. By the time Venus turned 10, they had moved to Florida for coaching at a tennis academy. Not long after, both sisters would go on to win their titles, respectively.
Richard Williams fought off gangs for use of the tennis court
The Williams family eventually settled in Compton, where Serena previously described hearing gunfire when practicing tennis in her 2010 autobiography, My Life: Queen of the Court. "At first, I just thought someone was setting off firecrackers or popping some balloons, but once I learned what the sound meant, it would shake me up pretty good," she said.
In Richard's memoir, he told a far more heartbreaking story saying he had to fight gang members for his daughters to use the courts. He was once beaten so badly, he had broken ribs, and 10 teeth knocked out.
"To this day, I wear my 'toothlessness' as a badge of courage,'" he said.
Richard got back at the gangs by taking a shotgun to the courts but later returned with the leader. So, he fought him, too, saying, "I beat him for everything I was worth." The leader retreated, and Richard won the court for his star players.
"It had taken two years and almost destroyed my body and my spirit," he said. "But in that moment, none of that mattered. What mattered was the courts were ours."
What we know about 'King Richard'
King Richard won't solely focus on Venus and Serena. Instead, Richard will be thrust into the spotlight. Will Smith plays Richard, as we see how a man who knew nothing about tennis trained his two daughters into becoming tennis champions.
Other stars include Jon Benthal as Macci, Scandal's Tony Goldwyn as coach Paul Cohen and Dylan McDermott as a fictional sports agent. Saniyya Sidney (Venus) and Demi Singleton (Serena) will portray Teen versions of Venus and Serena, while Lovecraft Country's Aunjanue Ellis plays Oracene Price.
Both sisters executive produced the film with Will and Jada Pinkett-Smith, and it hits theaters on Nov. 19, 2021.
Source: Read Full Article