'Arts are coming back': Triumphant return for an industry decimated by lockdowns
For our free coronavirus pandemic coverage, learn more here.
A musical set in Depression-era America and featuring the songs of Bob Dylan will be the centrepiece of the 2022 Sydney Festival.
Girl from the North Country by Irish playwright Conor McPherson will open at the Theatre Royal on January 6.
A scene from a 2018 production of Girl From the North Country.Credit:Tristram Kenton
Sydney Festival director Olivia Ansell said the musical's Australian premiere in Sydney, following successful runs in London and New York, was a signal that "the arts are coming back".
More than 50 per cent of the cast and crew of Girl From the North Country are from Sydney, Ansell said. "We are so pleased that this production and the festival will be playing an important role in aiding the city's recovery, while supporting our local theatre, arts, performance and live entertainment communities."
The musical is the first show to be announced ahead of the release of the Sydney Festival program on November 17, with tickets on sale from Tuesday.
Ansell said she hoped the festival would herald a triumphant return of a live performance industry decimated by COVID-19 lockdowns.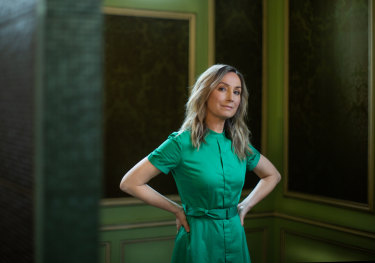 Lisa McCune plays Elizabeth Laine in Sydney Festival show Girl From the North Country.Credit:Simon Schluter
"By January, most NSW artists won't have worked for at least six months," she said. "Sydney Festival 2022 will play a critical role – to unite, recover and restore cultural experiences to the city this summer – employing Australian artists and engaging audiences to experience truly great art."
Ansell said the festival was designed to reach new audiences by animating Sydney's streets and iconic places. "When I set about planning this year's program, I wanted it to redefine the Sydney Festival, expressing our personality, eclecticism and spirit as a city."
The musical, which first opened in London in 2017, is set in the Great Depression and centres on a family-operated boarding house on the brink of foreclosure.
"In this work, themes of isolation, despair, loneliness and disenfranchisement are expertly contrasted by themes of hope and humility," Ansell said.
The show features Dylan's songs including Hurricane, I Want You, Slow Train Coming and Like A Rolling Stone, but it is not a jukebox musical.
McPherson said the songs were like portraits of each character's inner world rather than the plot-driving songs of an ordinary musical.
"The relationship of the songs to the story is like the relationship of hymns to a religious service," he said. "They allow us to contemplate the deeper themes of life rather than literal storytelling."
McPherson set the musical in Dylan's home town of Duluth, Minnesota, but in the decade before the singer was born because McPherson felt "it would liberate [Dylan's] music from all its usual associations and allow its universal themes to resonate".
"Bob writes about the eternal mysteries of love and longing and the hunger for justice in the world," he said. "And his music inspires us to appreciate the transcendent moments where we see ourselves as part of eternity."
Lisa McCune plays the role of Elizabeth Laine, a character she said has a "kind of unravelling" during the musical as she struggles with illness.
Her husband Nick is the proprietor of the rundown boarding house that is threatened with foreclosure by the bank.
McCune made a promise to herself to take on a role "I really wanted to do" after the COVID-19 crisis and "immediately fell in love" with the musical.
"Somehow it was a bit of a tonic," she said. "It's not the easiest of stories, but it somehow seems similar to what we've been going through."
Girl From the North Country premiered to five-star reviews in London and New York, and will reopen on Broadway this month. McPherson said it was too early to judge the impact of the pandemic on live performance.
"All I can say is that theatre has survived thousands of years of plagues, wars and famines, so I don't see any reason why it won't survive this, too," he said.
"There will always be a hunger for live storytelling, live music and the comfort of witnessing art together."
The Morning Edition newsletter is our guide to the day's most important and interesting stories, analysis and insights. Sign up here.
Most Viewed in Culture
From our partners
Source: Read Full Article