'Committed to truth-telling': Council gives voice to Indigenous views on Cooks' Cottage
When academic, curator and artist Paola Balla, a Wemba-Wemba and Gunditjmara woman, was approached to be involved in a project about Cooks' Cottage, her first question was: "Why the hell would I want to work on that?"
Cooks' Cottage in Fitzroy Gardens, formerly known as Captain Cook's Cottage, has frequently been the site of protests by Aboriginal and Torres Strait Islanders who see it as symbolic of British colonisation.
Academics Clare Land and Paola Balla outside Cooks' Cottage on Tuesday.Credit:Simon Schluter
"Captain Cook's Cottage feels like a life-sized memento mori to a dead white colonial mythic figure," Dr Balla said. "I thought, why would I do anything apart from stand outside and protest it?"
But then she considered how many schoolchildren and tourists visited Cooks' Cottage and realised that, as an Aboriginal educator and artistic curator, this was an opportunity to present an alternative to the white view of history.
Blak Cook Book, a publication by Dr Clare Land, Dr Balla and Kate Golding that offers new cultural perspectives on Cooks' Cottage, was launched on Tuesday at a Melbourne Conversations event.
Melbourne City Council commissioned the publication to share First Nations perspectives on Cook's legacy and Cooks' Cottage "as part of our commitment to truth-telling". Dr Land, who was initially approached by the council, asked Dr Balla if she would be involved.
"The City of Melbourne has committed to a truth-telling process through our forthcoming reconciliation action plan," a council spokesperson said.
"Truth-telling provides an opportunity for Aboriginal people to share their history, heritage and culture with the broader community."
A 1934 story in The Age on controversies surrounding the cottage.Credit:The Age
Cooks' Cottage was built in Yorkshire in 1755 by the parents of navigator and explorer Captain James Cook.
It was shipped to Melbourne (each brick was individually numbered and then packed into barrels) after a wealthy Melburnian bought it to celebrate the 100th anniversary of the colonisation of Victoria.
However, many people don't realise Cook never lived in the cottage as he had been away from home for almost 10 years when his father built it.
On October 9, 1934, The Age weighed in on the controversy.
"It is quite misleading to label this cottage Captain Cook's cottage as if he had been closely associated with it throughout his life," The Age opined. The apostrophe later shifted and Captain Cook's Cottage was renamed Cooks' Cottage.
Cook also didn't come near Melbourne. The closest he got was when the Endeavour sailed within view of Point Hicks in East Gippsland in 1770.
Graffiti on the cottage in 2014.Credit:Justin McManus
Dr Balla questioned why a house in which Cook never lived was shipped to Melbourne, which Cook never visited, and reassembled on Kulin nation country in Fitzroy Gardens "to tell the story of who we are".
"These are really important questions. Visitors and students need to be fully informed so they can make decisions about how we know history."
Blak Cook Book says it was Cook's journeys that signalled the beginning of British influence in the region, and the beginning of significant, ongoing disruption to First Nations peoples and lands.
"The cottage is also seen as symbolic of a one-sided view of history, because for a long time there have been very few significant cues to encourage visitors and passers-by to consider the wide-ranging negative associations of Cook's legacy for First Nations peoples," the publication says.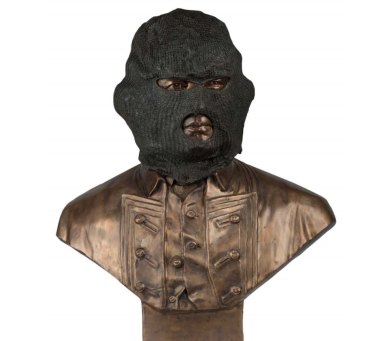 Biripi artist Jason Wing's Captain James Crook (2013) portrays Cook as a burglar.
"Were it not for the nearby culturally modified tree that speaks to continuous Aboriginal connection with the area, it would be possible for visitors to overlook the very existence of Aboriginal people."
Blak Cook Book features a range of stories and art works that challenge the "one-sided view of history", including Captain James Crook by Biripi artist Jason Wing, which portrays Cook as a burglar by placing a balaclava over a bronze bust of his likeness.
"This is a comment on Cook 'unlawfully taking possession' of the place he renamed NSW (eastern Australia today) in 1770," the publication says.
It also says that the "Captain Cook discovered Australia" story is confronting to Indigenous children because it ignores their own origin stories.
Dr Land, a non-Aboriginal academic from Victoria University, says the work of other scholars has shown that children have the capacity to deal with complexity and multiple perspectives.
"If you can show the contest and the debate and the different perspectives, they get really into it. They can cope with weighing up the different sides of the story and then actually get quite passionate about history," she said.
The authors hope Blak Cook Book will spark conversations and potentially lead to other new interpretations of history.
"There are hundreds and hundreds of monuments in Melbourne and very few are about Aboriginal people," Dr Land said.
Blak Cook Book will be available from the Fitzroy Gardens visitor centre opposite Cooks' Cottage.
Start your day informed
Our Morning Edition newsletter is a curated guide to the most important and interesting stories, analysis and insights. Sign up here.
Most Viewed in Politics
From our partners
Source: Read Full Article