Coronavirus: Brighton player 'OK' after testing positive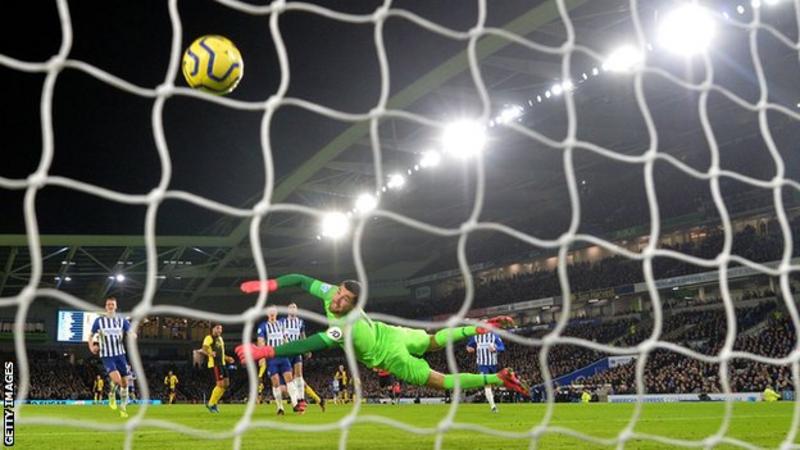 An unnamed Brighton player has tested positive for coronavirus but is "OK", says chief executive Paul Barber.
Three Seagulls players underwent tests after showing symptoms of Covid-19, with one returning positive.
Barber, who was unwilling to name the individual, said he is "getting the care he needs" and testing was only being done "when symptoms emerged".
The squad are on a break from full-time training and working on their fitness at home because of the global pandemic.
Brighton are 15th in the Premier League, two points above the relegation zone with nine games remaining.
Barber was appearing alongside manager Graham Potter in a news conference which took place via video link.
Potter feels the work being done on the mental side by his players is more important than what is happening on the physical side during the coronavirus stoppage.
Knowing the lockdown that was coming, Potter and his staff allowed the Brighton players to "empty the gym" to give them something to work on at home.
New technology means they can do squad sessions on exercise bikes and work on gym mats in an effort to maintain fitness even though, essentially, they are stuck at home virtually all day like everyone else in the country.
Crucially though, Brighton are also using a psychologist.
The Seagulls took the decision to keep all their players in the UK rather than let them fly home – and Potter feels looking after their mental wellbeing is hugely important at the present time.
"If anything the mental side is the priority at the moment," he said.
"It is a global crisis. The economy of this country is in lockdown. We know people are struggling on the front line.
"Some of the players are away from their families and they are missing them. Even if they went home, they couldn't really go and visit them because everyone is on lockdown but we need to be aware of that. We have a psychologist working at the club to give extra support.
"Isolation is not something that is easy for human beings to do but we are in this position and we have to look after each other."
Potter, his wife and three children have been in isolation after his wife had flu-like symptoms last week.
It has left him trying to juggle home schooling with being a Premier League manager, although not in any normal sense.
"We can still do our jobs, just not the jobs we would do in a normal circumstance," he said.
"We have group training sessions on Monday, Tuesday, Thursday and Friday. I go into those. I have also been speaking to all the players one-to-one.
"The truth is it is impossible to be a football coach at the moment. But you have to use the situation as positively as you can.
"We can still keep the players fit and active. We can still look after them and check their welfare. We can still speak as a coaching group. We can still analyse and prepare for games."
The problem for Potter is that he has no idea when those games will happen.
In the meantime, he fills his days the best way he can. On Thursday, that involved a 90-minute news conference with journalists scattered all over the country, all of whom, like Potter, were at home.
After that, he was going to speak with fans who have been identified as needing emotional support before offering his to the NHS, who he has the utmost admiration for.
"They're just amazing," he said. "That's the only word I can use. They are risking their lives in an imperfect situation. I'm sure the equipment they've got hasn't quite got there yet and they are having to battle with that.
"I know from my own experience how professional, dedicated, courageous they are."
Source: Read Full Article