'RHOA': Kandi Burrus Is Confused as to Why Nene Leakes Is Hating on Her
Kandi Burruss and Nene Leakes from The Real Housewives of Atlanta have been feuding on social media lately. Both ladies had been sailing smoothly over the course of season 12 of the reality series but something is off now. Leakes has been taking jabs at Burruss and the latter is confused as to why it's getting nasty between them.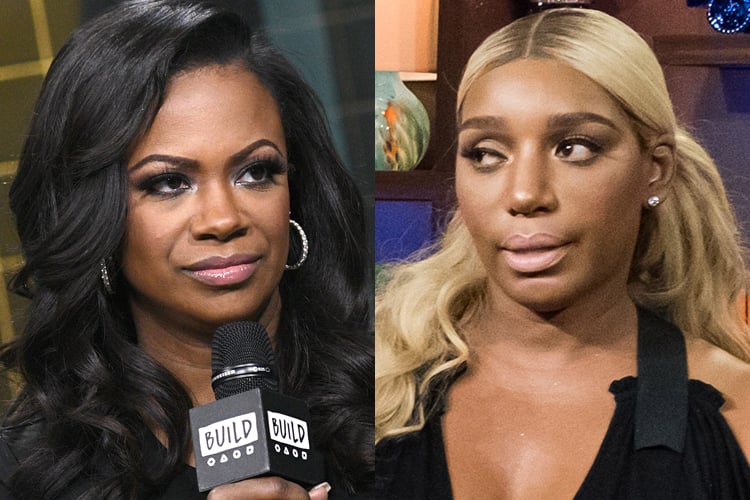 "During the season, I pretty much got along with everybody, I didn't have any arguments but lately it just seems like Ms. Leakes and I have been bumping heads," Burruss told Entertainment Tonight. "And I really don't know what her problem is, you know what I'm saying? Well, now I do because I have been petty."
Why Kandi Burruss thinks Nene Leakes is upset with her
Leakes recently broadcasted live on YouTube where she gave insight as to why she's upset with Burruss. The main reason seems to be that the latter doesn't seem to cut Leakes slack. Burruss has been closed to Kenya Moore, who is at odds with Leakes. The Glee alum just wants to get recognized by the singer and songwriter when she's right.
"Although we are oil and water, I'm still grown enough to say, when she's right, she's right," Burruss continued. "And when somebody has done something to her that was wrong, I'm still adult enough to say, 'That was wrong. They shouldn't have did that against her.' But she's never, ever did that towards me. Never, ever. She always come off like she's just hating me so much. Girl, dang! There's enough space for all of us. She ain't gotta hate on me."
Burruss pointed out that she was the only one that wanted to film with Leakes at the beginning of the season. The latter had been at odds with most of the cast and Burruss helped her get introduced back into the group.
"I'm the only one who wanted to film with her at the beginning of the season," the RHOA star noted. "Like, I was the one who was trying to get everyone back on the same page with her. So, I don't know how she changed that into trying to make people believe that I have something against her. I honestly feel like it's just because I'm friends with Kenya Moore."
Nene Leakes is ready for the reunion
Leakes is on fire and has a lot to say and has been teasing it would be an explosive RHOA reunion.
"These girls … they're gonna get it, let me tell you. This isn't a threat, it's a promise," Leakes teased during an interview with People.
The "tastiest peach" says she is getting ready and will be looking fierce at the reunion.
"I'm going to be beat from head to toe while I do it, sitting there with a full face, wig, dress, high heels this tall, looking fabulous, and tearing the house down," Leakes continued. "I'm going to get these girls and do it very good and walk right on out and sleep just fine. Is my money in my account? Thank you. The queen is here, you can never wear the crown. They're all wearing tiaras."
However, Leakes is going to have to wait a little longer. The RHOA reunion has been postponed following the coronavirus pandemic.
"Obviously, that's not happening," Cohen said during an interview on SiriusXM. "Hopefully we will be able to shoot it just as soon as we possibly can. People are saying, 'Why don't you just do it remotely?' I don't think that that would work. I don't think it would work well. I don't think that's a good idea."
The Real Housewives of Atlanta airs Sunday nights at 8 p.m. ET on Bravo.
Source: Read Full Article