Sole Mates: Hanni El Khatib and the Nike Air Zoom Flight 95
Hanni El Khatib is both an accomplished designer (he's the brand director of HUF) and a tenured musician (he's the co-owner of indie label Innovative Leisure, with five studio albums under his belt). Khatib's world is amorphous, ever-evolving and changing, but one thing that's always been a constant is his love for sneakers.
Sneakers have been a driving force in Khatib's life since he was a kid, skateboarding across the Bay Area in Air Jordan 1s. As he grew older and learned more about skateboarding, hip-hop and basketball he gravitated towards
Ryan Moraga2 of 2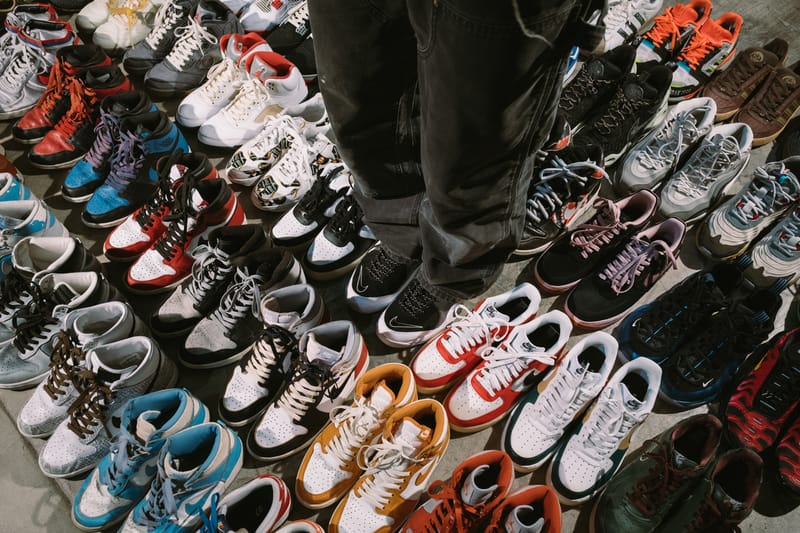 Ryan Moraga
HYPEBEAST: What got you into sneakers?
Hanni El Khatib: When you're a kid, you're heavily influenced by what's directly in front of you. If I was watching White Men Can't Jump, I was looking at Woody Harrelson and Wesley Snipes' shoes. Same for Above the Rim, New Jersey Drive, the scene in Juice where Omar Epps keeps changing his shoes. That instilled in me at a young age an important lesson: the identity that you portray to the world can come in the form of the shoes you wear. I loved the collecting aspect as well. When you're a kid, collecting anything — baseball cards, basketball cards, comics, whatever — is super fun, and I just gravitated towards collecting shoes.
I mean sh*t, the first specific shoe I recall getting was an OG Air Jordan 1 in the '80s. My mom got 'em for me because they were on clearance. I remember being really stoked because it was the shoe all the skateboarders in San Francisco wore. So as a young kid, I'm identifying with the skaters. The basketball aspect of the Air Jordan 1 didn't even come into prominence for me until later, when I got deeper into hoops, hip-hop, Michael Jordan. Shoes and skateboarding were really the basis of a lot of my interests. That's even how I met Keith Hufnagel. We originally bonded over our shared love of shoes and skateboarding.
So when did the Air Zoom Flight 95 enter the picture for you? That's definitely not a skate shoe. Did it have anything to do with Jason Kidd's popularity in the Bay Area? [Kidd played college basketball at the University of California]
Yeah, Jason Kidd was the man. Besides that, I feel like signature basketball shoes were a bigger cause for excitement back then then they are today. The first time I saw the Air Zoom Flight 95 was definitely in an Eastbay catalog. We'd always get those catalogues at the house, and I'd pick out what I liked then try to get it at Foot Locker, Athlete's Foot, Copeland's, whatever.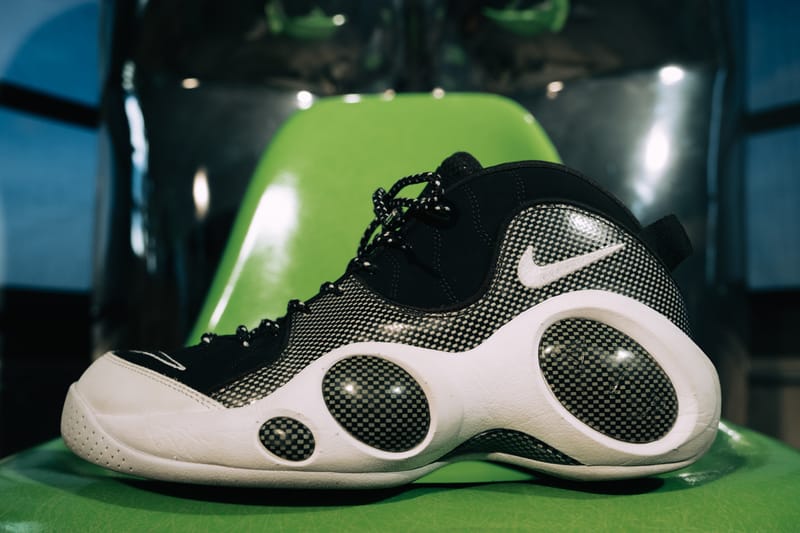 Ryan Moraga
You'd mentioned that there were a lot of dope basketball shoes coming out in the mid '90s. What drew you to the Air Zoom Flight 95 as opposed to something like Penny Hardaway's Nike Air Max Penny 1, Shawn Kemp's Reebok Kamikaze II or even Grant Hill's FILAs?
It was mainly how the Air Zoom Flight 95 was so futuristic-looking. Those weird ovals, all the carbon fiber — it just looked like a sci-fi bug to me. I was playing basketball in high school at the time, and would always wear the navy and white pair or the navy and white pair with the red Swoosh, even though I wanted the classic black and white. To this day I still wear them casually, and have even managed to get my hands on a few pairs of PEs. I search for them online quite frequently, honestly. You don't see good OG pairs too often, so you gotta jump on them when they show up.
Do you want Nike to retro the Air Zoom Flight 95 again, or do you enjoy that it's not readily available and you have to hunt your pairs down?
I think that if you'd have asked me that question years ago, I'd be like "nah, leave them. The real heads that know will find them." As I get older though, I'm like "dude, i just want a pair that isn't going to fall apart on me." I'd like them to come back in a large quantity so I don't have to fight a bunch of people for them on SNKRS. Where's Eastbay these days? Can I get a f*cking mail order catalogue and pick out the shoes I want? If everyone can buy a shoe I like, that's fine by me. That wouldn't affect how I feel when I put it on.
"Shoes can change the world in a sense, but they're not going to change you as a person. Sh*t isn't that serious. If you like it, and it makes you feel good? Go for it."
The Air Zoom Flight 95 is a pretty bold shoe. How do you go about wearing it casually? Is there any sort of process?
It's funny because I've been wearing a lot of basketball shoes lately: the Air Zoom Flight 95, Air Zoom Flight 96, the Air Jordan 13. All those shoes seem bulky, but I have to remind myself that most people are wearing tech-y sneakers, retro runners like New Balance or no-frills styles like Air Jordan 1s and Nike Dunks — so basketball shoes are sort of uncommon in that sense. There was a little adjustment period, but I loved basketball shoes as a kid and I love them now as an adult, so I got used to it eventually.
I just bought a pair of the Cosmic Unity, brand new Nike Basketball shoes. I kick around in them a lot, and people often ask me "how do you wear basketball shoes casually today?" I'm like "you just put them on with whatever clothes you're wearing." I feel like people think too much about coordinating their outfits and shoes, when if they're comfortable and feel good that should be more than enough. I often liken it to being a kid and doing what makes you happy. These things are all so secondary. Shoes can change the world in a sense, but they're not going to change you as a person. Sh*t isn't that serious. If you like it, and it makes you feel good? Go for it.
"[When you're working on a collaboration] you gotta speak to the sneaker community first, then tackle the concept and design."
Let's fast forward to when you started working at HUF. I'd be interested to hear about how that changed your perspective on footwear. Did you see shoes in a different light when you were viewing them as a collaborator instead of a pure fan?
The main thing I learned was how to take a deep dive into sneaker history and sneaker design, then combine that with a new angle when you're working on a collaborative project. I've worked on dozens of collaborative footwear projects at both HUF and Metropolitan. We had so many opportunities to do different things with shoes. There are some all-time classics, and others that I wish I could go back and redesign because I feel like I let the current time period, the current style or the current mood we were in dictate the design a bit too much instead of applying the proper sneakerhead "lens." Sometimes it would be "let's make a simple colorway, something that matches with vintage clothing," and it would be a good, wearable shoe, but maybe not one with the most longevity. You gotta speak to the sneaker community first, then tackle the concept and design.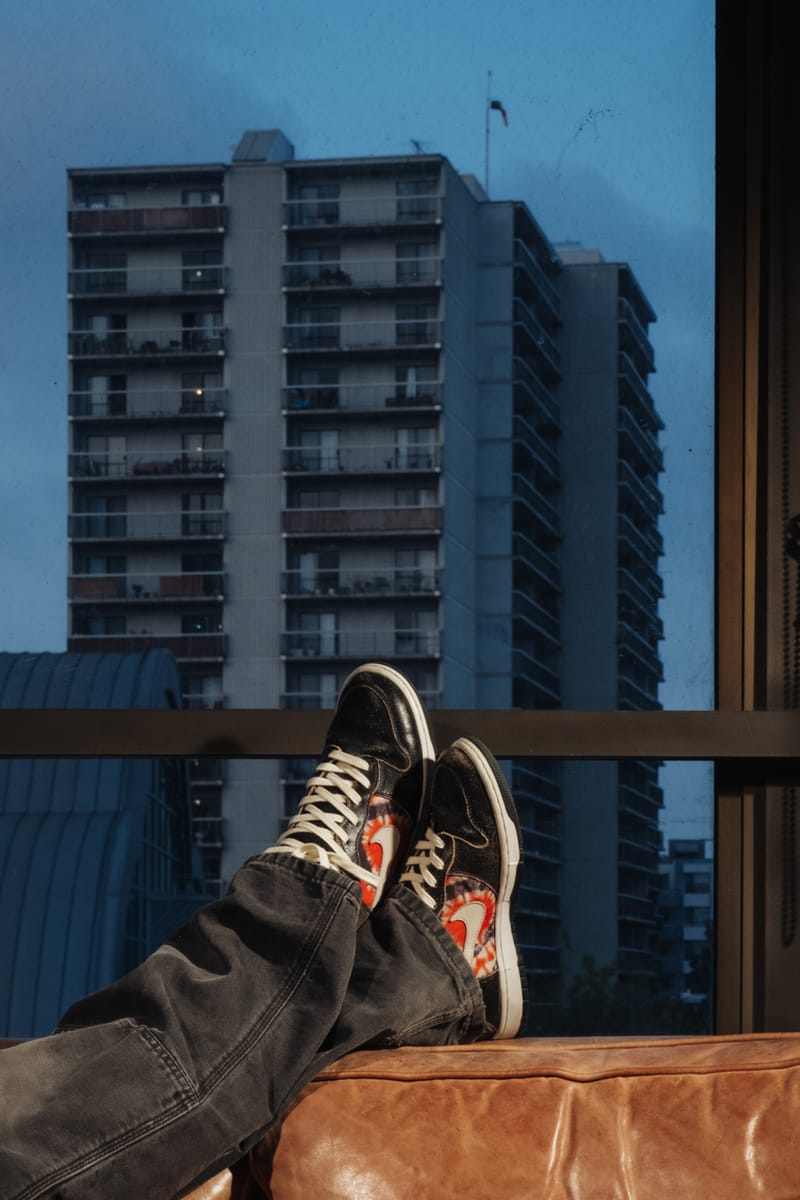 Ryan Moraga
Do you have a favorite footwear collaboration that the HUF team worked on?
The original HUF x Nike Air Max 1 and the HUF x Nike SB Dunk High are the first shoes that come to mind. Those were mostly Keith. On the Air Max 1, we were really able to incorporate our signature brand colors and own that fluorescent shade of green. It really hit the mark for Air Max heads. On the other hand, that tie-dye SB Dunk High is a great example of really nailing a concept. It's all San Francisco. Giants black and orange, a tie-dye pattern that nods to the history of Bay Area hippies. It's held up over time because its inspiration is clear, accurate and true to its source.
Other ones that come to mind are these [reaches behind his desk and grabs all four pairs of the HUF x Vans Sk8-Hi "Satin" from 2008]. I was really proud of these because it's a little nod to Nike's Vandal High, a shoe that combines sneaker and skate culture. There's been so many. The Barry McGee x adidas Consortium series, all of those, the Metropolitan collaborations we worked on — I could go on and on. I mean, even this one [looks over shoulder and gets up from desk excitedly].
[From a distance] Sorry Ross, if i'm going off about this!
Don't worry about it! That's what we're here for.
[Returns with the HUF x Nike SB Blazer Mid] This was the first Nike that I ever did solo, this deconstructed SB Blazer. It was back in 2009, and the shoes were still puffy. We got Nike to remove all the lining and change the outsole. This was right when Nike had acquired Converse, and we used our collab as a nod to the Chuck Taylor, a shoe the whole crew loved. When I look at it now though, I'm not like "this is a quintessential collaboration," but the process of getting there and everything I learned from the shoes I mentioned before was a lot of fun.
"Some of these 'storytelling' shoes go so overboard in following their inspiration that they become borderline unwearable … sometimes you forget something as simple as what the shoe looks like with pants."
So do you think that collaborative sneakers are better when their story kind of tells itself? For lack of a better phrase, when the inspiration is a bit more obvious?
Yeah, man. I think there's a fine line. Some of these "storytelling" shoes go so overboard in following their inspiration that they become borderline unwearable. I always try and think of how the design is gonna age. At the end of the day, the shoe needs to look cool when you're wearing it — no matter how compelling the story might be. That's one of the things I like about the Air Zoom Flight 95: you don't have to understand its story to appreciate its look. It's easy to get too insular, because when you're designing something you're going over every single detail with a fine-tooth comb. Sometimes you forget something as simple as what the shoe looks like with pants.
Switching from HUF to music, do you have a go-to performance sneaker?
When I first started performing music, I was making a lot of garage rock. I'd often look quite out of place from the rest of my band, showing up to a party with a bunch of punks and wearing baggy jeans with Nike SBs or Air Jordan 13s. Because of that, I'd almost say I had a secondary performance identity in those days. I'd wear Roper boots, George Cox shoes, or something like a Clarks Wallabee.
As my music shifted through the years, I figured out how to blend those two worlds. In that period, I was wearing a lot of Air Force 1s. Then, I started playing with this sludge metal band and was like "this isn't even my band — I can wear whatever I want." That's when I started performing in shoes like Air Jordan 4s, really pulling stuff out of the vault because that contrast between what I was playing and what I was wearing was really interesting to me.1 of 2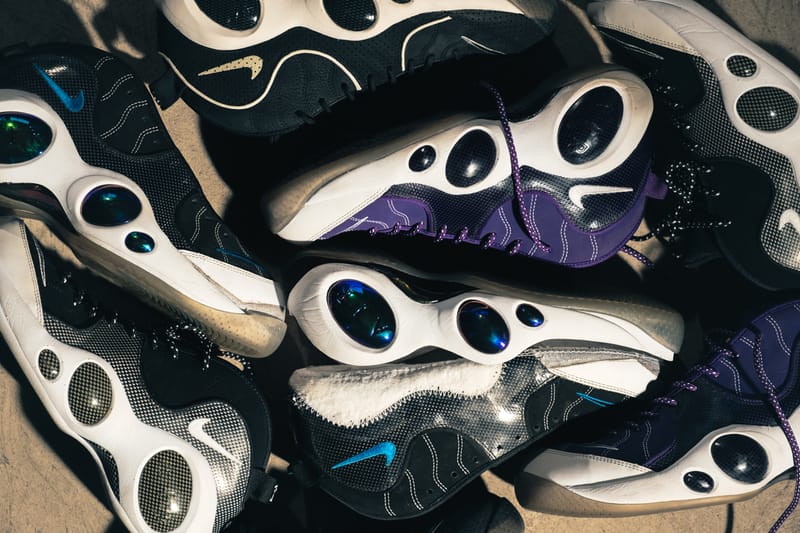 Ryan Moraga2 of 2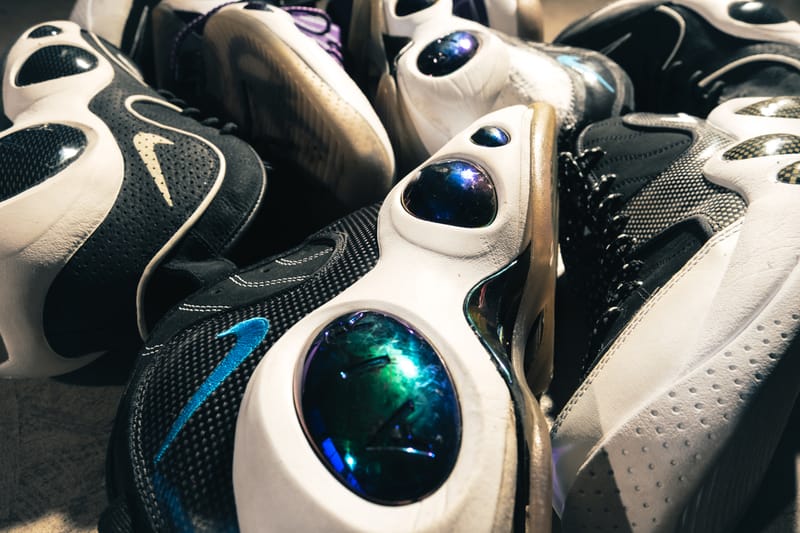 Ryan Moraga
What do you think about musicians receiving signature footwear just like athletes do? Kanye West and Travis Scott seem to be the biggest examples, but you can even look at someone like Liam Gallagher and what he's doing with adidas Spezial.
It makes sense because they're entertainers and so are professional athletes. Musicians have a huge reach and influence. They know and understand style, and they're wearing the shoes anyway. It only makes sense for someone like Travis Scott to get a shoe and do it successfully. There's so many parallels. The only real difference is one plays a show, the other plays a sport. But honestly, at the end of the day playing a show is like a sport. There's been times when I'll play a 90-minute set and I'll be exhausted, feeling like I just finished a basketball game.
Do you feel like musicians' signature shoes have become the new signature basketball shoes in terms of influence and impact? Are they helped by the fact that they're created purely for lifestyle purposes instead of performance?
What comes to mind for me is what Kanye does. He's working with legends like Steven Smith. You have this OG footwear designer at the helm of your precious projects, and you're being very innovative — sort of how it was in the '90s with basketball shoes. I mean, take a look at the YEEZY 450. It's similar to the Air Zoom Flight 95 in that upon first glance you're like "what's this weird bug shoe?" Or the YEEZY 700 V3, a shoe that looks like a bullet train. I think that innovation coming through the lens of a musician or designer is super interesting.
Final question: why are sneakers important to you?
Honestly, they're important to me because they straight up make me feel happy. That's it.
I feel that.
[laughs] My girlfriend probably thinks I'm crazy because I bring home shoes every couple days, but there's this feeling I get — that I'm sure you're familiar with too — when you open a shoebox and lace up a fresh pair. It just takes you back to being a kid, man. That feeling is what keeps me drawn to it.
Source: Read Full Article