The Shady Side Of Jessica Simpson
Jessica Simpson has been on the pop music scene ever since she shot to fame with debut single "I Wanna Love You Forever" way back in 1999. She would go on to become one of the biggest stars in the game, conquering the worlds of music, fashion, and the silver screen. 
The Texas native really caught our attention in 2003 when she and her then husband Nick Lachey teamed up and put their marital bliss (and, eventually, the opposite of bliss) in front of the camera for the reality show "Newlyweds: Nick & Jessica." That chapter of her story did not end on the happiest of notes, and it would be one of many pieces of her life that would receive the public's attention. From her high-profile romances to her happy life with her three children and husband Eric Johnson, the singer's been through a lot of ups and downs over the years.
She also has stumbled into the odd shady moment. Read on for some of Jessica Simpson's more questionable moves in the public eye.
Carrie Underwood got caught in Jessica Simpson's crossfire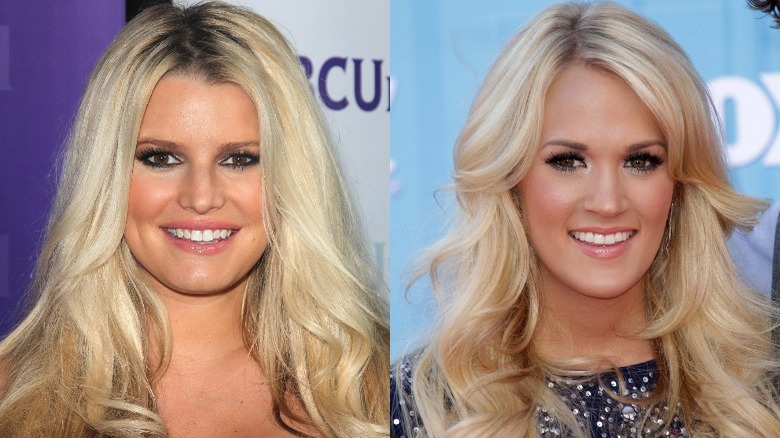 Who could forget Jessica Simpson's infamous apparent feud with Carrie Underwood? The drama between the two was on the cover of plenty of magazines back in 2007 after they seemingly didn't see eye to eye over Tony Romo. Underwood dated the former quarterback for a while that year — and they even attended the ACM Awards together — but things fizzled not long after that.
Simpson then went on to strike up a relationship with Romo towards the end of 2007 until 2009, and things took a turn when Underwood claimed the football star tried to get in contact with her. "The phone will ring and it'll be him, and I'll maybe not answer," she told Allure in 2008.
Well, that didn't sit too well with the person he happened to be dating at that time. "Tony and I both laughed at that. Yeah, we got a chuckle out of it," Simpson hit back on "The Woody and Jim Show," noting, "If Tony wanted to call her or be with her, he would." She added, "I don't understand why she would say that. I respect Carrie, and I would never say anything like that."
While it seemed like there was a little shade thrown here, Simpson later denied a feud with the country star. She told The Boot in August 2008 that the drama was "media driven" and added, "I respect her and hopefully she respects me. We've just dated the same guy — that's it!"
Jessica Simpson left Pamela Anderson livid over a controversial tee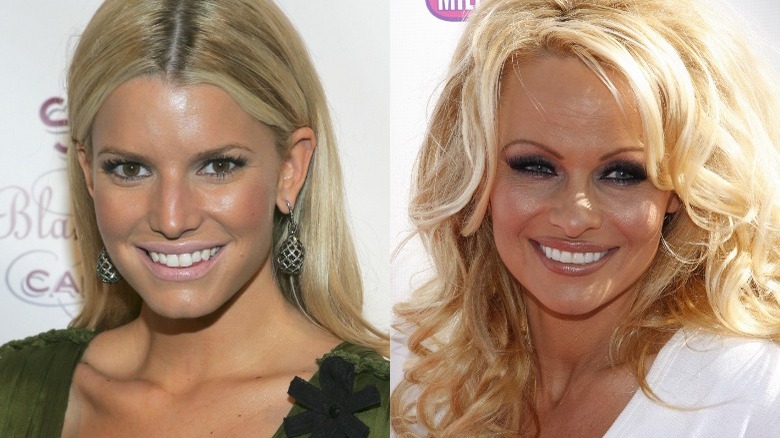 Leading on from her drama with Carrie Underwood, Jessica Simpson raised serious eyebrows when she was spotted out in a controversial T-shirt. Per Los Angeles Times, in June 2008, she was photographed at the airport wearing a red top emblazoned with the words "real girls eat meat" across her chest. Many thought it was a dig at Underwood, who is vegetarian, while others were just plain livid.
Simpson was very publicly criticized by PETA. The organization wrote in a blog post (via the LA Times), which appears to have been taken down, "I'm gonna go on record saying that if anyone had to wear a ridiculous shirt like this, I'm glad it was Jessica — as people are more likely to follow the opposite of her lead. Maybe the meat-eaters of the world will be embarrassed to be categorized in the same field as Jessica Simpson." Ouch.
PETA supporter Pamela Anderson was equally livid. Speaking on an Australian radio show (via TMZ), Anderson called Simpson a "b***h" for donning the garment. The former "Baywatch" star later claimed she was only "joking" during an interview with Billy Bush for "Access Hollywood" and said she "didn't even know" they were specifically speaking about Simpson. She added that she didn't apologize to Simpson, but did send "her a letter from PETA" explaining why she may want to reconsider eating meat.
Jessica Simpson admitted she faked scenes on Newlyweds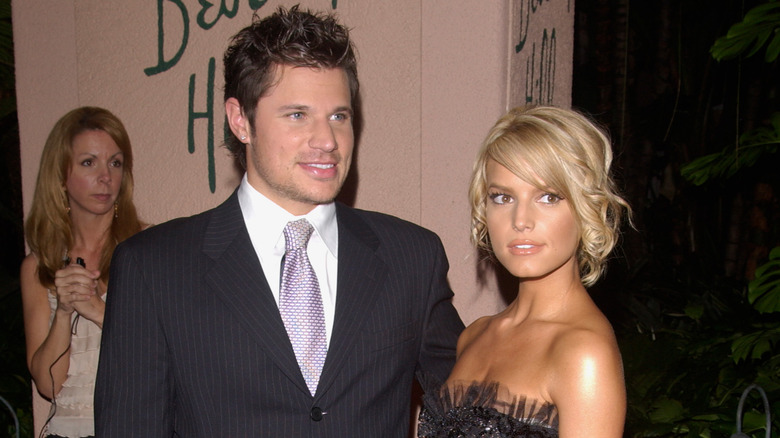 "Newlyweds: Nick and Jessica" was a huge hit when it debuted on MTV in 2003. The reality show documented the first few years of Jessica Simpson's marriage to Nick Lachey, casting a light on their many ups and downs. Though we're more used to seeing contrived reality TV scenes nowadays, it always seemed like "Newlyweds" gave us a true insight into Simpson's relationship with the former 98 Degrees singer — but it turns out that wasn't exactly the case.
One of the big bombshells Simpson dropped in the candid 2020 tell-all "Open Book" was that some scenes were faked. The star pointed to one episode in particular in which she and Lachey went on a camping trip and claimed it was entirely set up by producers. Another moment that wasn't exactly truthful came during a trip to New York when Lachey surprised his then-wife with several romantic gestures, including recreating the top tier of their wedding cake. Simpson said, in reality, neither of them had even heard of the tradition and called it a "conceit".
Speaking to BuzzFeed News' "AM to DM," Simpson admitted, "I felt like I was being a phony, and I didn't want to continue on with that. It wasn't real anymore. It wasn't reality. It wasn't who we were. There was lots of eye-rolling, and that was real stuff." Simpson and Lachey ended up calling it quits and divorced in 2006.
Did Jessica Simpson give Lindsay Lohan the cold shoulder?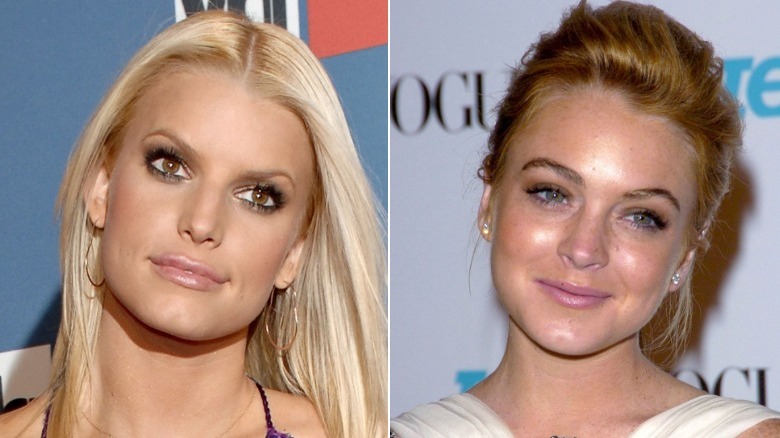 All the way back in the mid-2000s, tabloids were hot with reports claiming Jessica Simpson and Lindsay Lohan, two of the biggest stars of the moment, were supposedly embroiled in a feud. According to People, things apparently began between the two after Jessica's sister, Ashlee Simpson, started dating Wilmer Valderrama, Lohan's ex. Rumors then began to swirl that the "Mean Girls" star wasn't too happy and had allegedly refused to let the sisters attend her MTV Movie Awards party in June 2005. "Lindsay has an issue with it even though she and Wilmer haven't been together for months," a source told the outlet.
The following year, the drama reports heated up again when, per TMZ, the rumor mill claimed Lohan sent a round of drinks to Jessica's table while they were both in the same bar to try to make nice. Jessica supposedly didn't say thank you to Lohan, which supposedly left her feeling "furious and jealous." According to TMZ, Life & Style even claimed at the time that Lohan was looking to get back at Jessica by dating Nick Lachey.
However, Lohan's publicist denied the reports to TMZ, calling them "a whole lot of nothing." Jessica also shut down the claims after the party report in 2005, telling People, "I guess people got tired of making up stories about me and Nick and decided to create some other kind of drama."
Jessica Simpson called marrying Nick Lachey her biggest 'money mistake'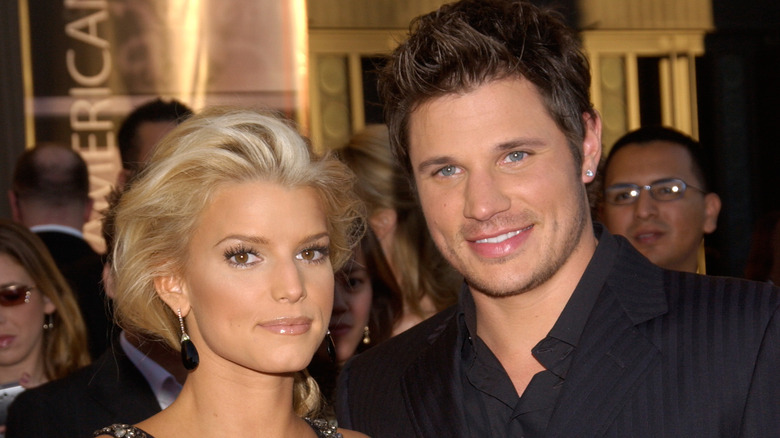 It's no secret that Jessica Simpson and Nick Lachey didn't exactly stay on the friendliest terms following their 2006 divorce — and Simpson made that pretty clear almost a decade after the former fan-favorite couple officially called it quits.
Though they've mainly only said polite things about one another in interviews, Simpson had something a little shady to say about the "Love Is Blind" co-host when asked to name her biggest mistakes with money on CNBC's "Closing Bell" in 2015. "The biggest money mistakes? I don't know," she replied. "For some reason I thought of my first marriage!" Zoinks.
We can't really say we blame her though. The two didn't sign a prenup when they wed in 2002 and Radar Online claimed Simpson allegedly had to pay Lachey $12 million amid their split. In "Open Book," Simpson recalled, "They said Nick wanted a certain number, and honestly I don't remember what it was." She said she was advised to "just give it to him" knowing that she would make it back, and quipped, "I did. Give or take a billion."
Simpson opened up about how much she wished she'd had a prenup on "Dr. Oz" in 2020, admitting Lachey wanted one but she was "offended" by the notion. Unsurprisingly, a source claimed to Us Weekly in 2010 before Simpson wed Eric Johnson that they would "definitely" have a prenup. Wise choice.
Jessica Simpson had an 'emotional affair' while married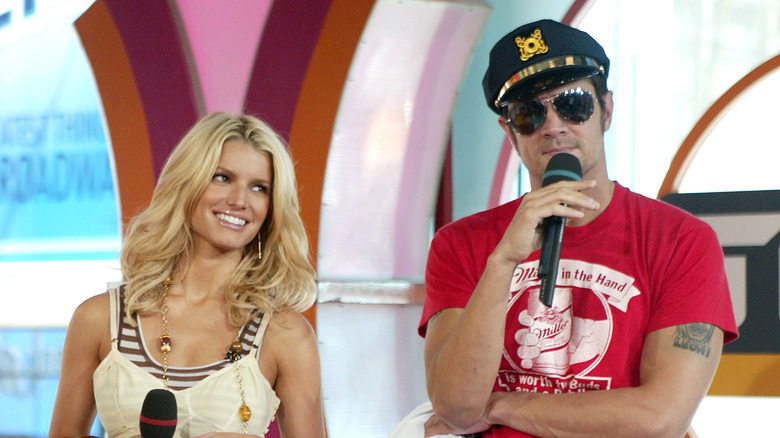 In "Open Book," Jessica Simpson admitted she had what she described as an "emotional affair" with her "The Dukes of Hazzard" co-star Johnny Knoxville in 2005 while still married to Nick Lachey. The pop star made the somewhat surprising confession in her 2020 tell-all, writing she felt she "could share [her] deepest authentic thoughts with him, and he didn't roll his eyes at [her]." She added there was a major connection between the two, one she never felt with Lachey.
Simpson noted things never got physical, but admitted, "To me, an emotional affair was worse than a physical one. It's funny… because I had placed such an emphasis on sex by not having it before marriage. After I actually had sex, I understood that the emotional part was what mattered." She confirmed they "had that" and admitted it "seemed far more of a betrayal to my marriage than sex."
Rumors popped up regarding what was or was not going on between the two at the time, though Knoxville shut down the speculation. "The stuff [the tabloids] wrote about Jessica and I — it's obviously not true," he told The Washington Times in 2005. "They write these things and, you know, I've got a daughter and a wife, and she's got a husband, and it affects the families involved. Luckily, my wife and I have a dialogue. We talk about it." Knoxville was married to Melanie Lynn Clapp at the time, but divorced in 2008.
Did Jessica Simpson lie to Hoda Kotb?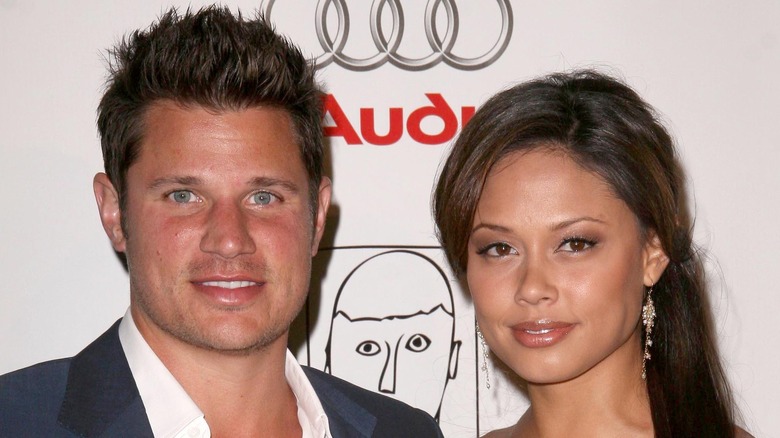 This one's a bit of a complicated one to unpack, but Jessica Simpson, Hoda Kotb, Vanessa Lachey, and Nick Lachey all ended up at the center of a confusing story. It all started when Nick and Vanessa appeared on "Today" in 2020 and Kotb referenced something Simpson said (or she thought Simpson said?) about the Lacheys in another "Today" interview. "[Simpson] kept saying, 'They sent me something beautiful when I had my children,'" Kotb said, before Vanessa cut in. "I feel bad, I'm sorry," the former "TRL" host said. "You said somebody sent her [something]… It wasn't us, but thank you whoever sent it from us." She also denied even knowing Simpson's address. Yikes.
When Kotb and Jenna Bush Hager went on "Watch What Happens Live" a few days later, host Andy Cohen tried to figure out what happened. Kotb said she "thought" Simpson  mentioned something "about a gift," adding, "I was like, 'Oh, so everybody's happy.' So when [Nick and Vanessa] came I was like, 'Isn't that cool everybody's friends?' And then that wasn't the way it was received."
Of course, Andy Cohen being Andy Cohen, he also grilled Simpson on gift-gate and asked for her reaction to Nick and Vanessa's denial on his SiriusXM radio show. Simpson replied, "Well, I don't know that I got a gift, per se" and added that her present from Nick is that he's happy.
What's going on with Jessica Simpson's social media?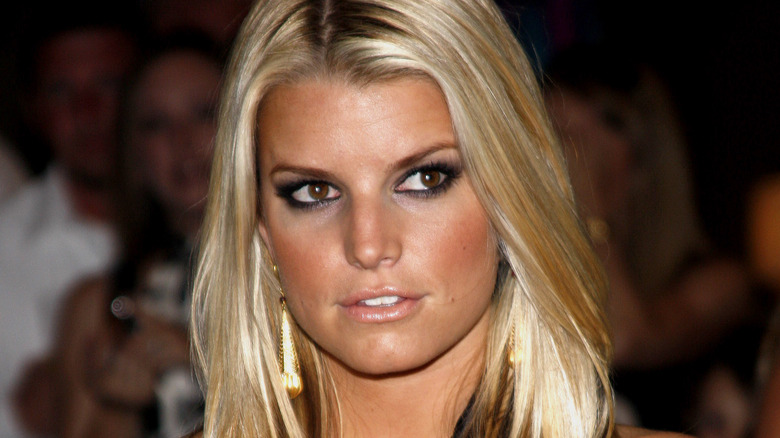 Social media has landed Jessica Simpson in a little bit of trouble before. The star hasn't exactly had the best luck online and found herself on the receiving end of a lawsuit in 2018 when she was accused of posting a paparazzi photo of herself without her permission. According to The Hollywood Reporter, Splash News and Picture Agency sued Simpson for "copyright infringement" after alleging she didn't pay for it before sharing it to her Instagram and Twitter.
That wasn't the only hoopla Simpson found herself wrapped up in after sharing a snap to Instagram. The star has also been accused of editing her photos and was called out in April 2018 for allegedly Photoshopping a snap of herself in a bikini (per Pop Culture). Simpson posted a shot of herself posing in her closet in black two-piece with a sarong with a high slit on Instagram, and the comments section was full of not so nice comments from people claiming her body had been manipulated. "Nice try, luv, but we all saw the real [paparazzi] shots the other day. Embrace what you have and stop with the Photoshop trickery," one person commented.
Simpson faced similar backlash in July 2015 when she was accused of editing her legs in an Instagram photo with her friends (via Radar Online). She doesn't appear to have responded to the editing claims publicly, but we can't deny she looked stunning either way.
Ken Paves was reportedly over Jessica Simpson 'dumping friends'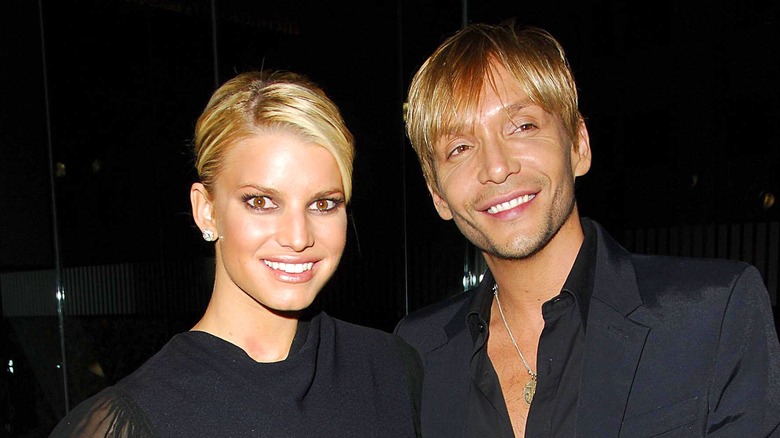 Jessica Simpson appeared to get called out by a longtime bestie when she started dating Eric Johnson in 2010. She and celebrity hairstylist Ken Paves were very close friends for years and even launched their own line of hair extensions together called hairdo. However, a source alleged to Us Weekly that Paves was "sick of her cycle of dumping friends when she's with a guy" and cut her out of his life. They claimed he supposedly felt the "A Public Affair" hitmaker "smothers guys and they dump her. Then she goes back to [him]" and he's left to pick up the pieces.
Paves seemed to confirm the reports that they weren't on the best terms when asked about the state of their friendship by E! News in October 2010. "Yes, but no, but… that's what led to the speculation," Paves responded when asked about their once-close friendship had died down, adding, "I've been working on a lot of things that have me in town and traveling. We're both busy and busy is good." He also appeared to downplay reports of drama though. Paves said their friendship "is always there" and added people can "say what they want to say" about their seemingly former close relationship. "I'm not insecure about it."
As of June 2021, it seems like they may at least be cordial if not best friends, as both follow each other on Instagram.
Source: Read Full Article