'90 Day Fiancé': Fans Livid With Ronald Smith After Talk With Tiffany Franco's Son, Daniel
90 Day Fiancé fans are not happy with Tiffany Franco's husband, Ronald Smith. A recent episode featured a conversation between Ronald and Franco's son, Daniel, that left a bad taste in many viewers' mouths. They felt as if Ronald was putting Daniel in an impossible position, essentially parentifying him. Fans took to social media to call out Tiffany Franco's husband for his behavior.
'90 Day Fiancé': Ronald Smith hid a gambling addiction
90 Day Fiancé couple Tiffany Franco and Ronald Smith encountered some early hiccups in their relationship. Notably, Smith waited until their engagement to admit to Franco that he had a gambling addiction.
Ronald once stole his mother's refrigerator and pawned it off for money, eventually promising to return it. He also took money from his job in order to fund gambling.
"When I was first dating Ronald before I knew about the gambling I was so blissfully happy… no stress just f*cking happy. How things and people change," Franco wrote on Instagram in a now-deleted post.
From there, things gradually got worse. Eventually the two wound up splitting, announcing their decisions separately on Instagram. They later reconciled and got back together, but there have been additional problems since then.
'90 Day Fiancé': Tiffany Franco is unsure about her marriage
Since then, Tiffany Franco and Ronald Smith have been trying to make things work, especially given the fact that they have a daughter, Carley. However, Franco feels as if her 90 Day Fiancé husband isn't pulling his weight.
"Ronald, right now, is not emotionally supportive. He's not financially supportive," Franco told producers.
"Not once does Ronald offer, 'Hey, let me buy diapers for Carley. Hey, let me send her some clothes or let me send you money for clothes.' Nothing — and that's so frustrating because it's not only my responsibility. I didn't make this baby alone," she added.
"Right now, more than ever, everything is really tense. We've had moments where I wonder if this marriage is right for me," she told an attorney on the show.
Franco has been concerned about what might happen if Smith doesn't pass through the visa process successfully. She is not keen on the idea of moving her family to South Africa, citing concerns over uprooting them from their lives, as well as safety concerns.
Fans blast Ronald Smith for conversation with Daniel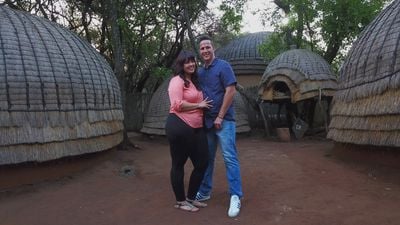 A recent 90 Day Fiancé scene showed Ronald Smith chatting with Tiffany Franco's son, Daniel. Ronald essentially told Daniel that he needs to tell his mother to move them to South Africa. Daniel said he doesn't want that, but Ronald kept pushing for him to act as an intermediary between him and Franco — putting Daniel in an impossible position for a child to navigate.
Fans were livid with Ronald for putting this weight on a young child like Daniel, and they took to Reddit to express their displeasures.
"Daniel is just a child and views Ronald as his dad. Children are not pawns in a relationship. They should not be exposed to the complexities and emotions of adult relationships," pointed out one Redditor.
"From someone who had childhood depression and anxiety, this is how you get childhood depression and anxiety," suggested another user.
"This storyline is one of the reasons I stopped watching the show altogether. The way they use that kid as a prop in their disgustingly dysfunctional relationship made me sick. Having him call him 'dad' before they've even met was too much. It was setting this kid up for ruin," opined a commenter.
Source: Read Full Article