'Better Call Saul': Kim Wexler and Jimmy McGill Must Still Be Married in 'Breaking Bad' — Or Else She's Dead
Better Call Saul fans have been worrying about KimWexler's fate since the beginning. Like the other characters on the showwho never make it to Breaking Bad, falling in love with Kim has been heartbreakingbecause weknow she'll be gone by the time Jimmy fully transitions into Saul and meetsWalter White. At least, we think she is.
It's true that show creator Vince Gilligan never planned to create a spinoff series featuring a character who was originally created as a joke. But even so, he and Better Call Saul showrunner Peter Gould must adhere to the Breaking Bad details or they risk the wrath of the fans.
After Episode 7, we now have a major clue about what might happen to Kim. And it's not looking good.
[Spoiler Alert: Spoilers ahead for Better Call Saul,Season 5, Episode 7]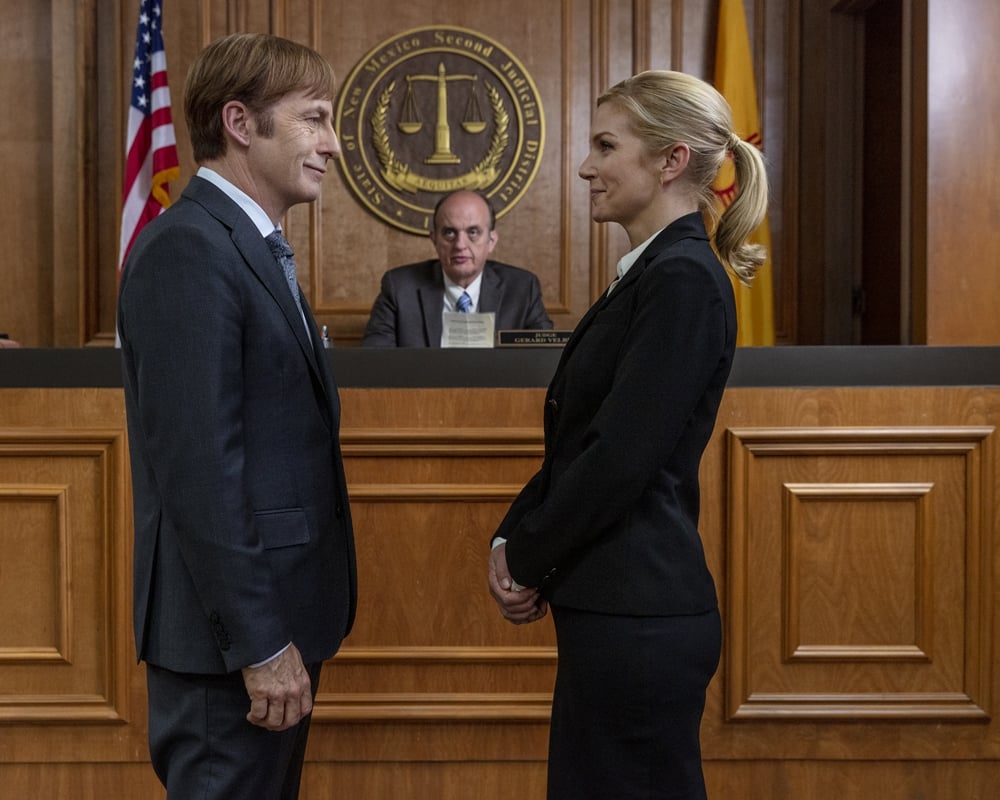 Saul Goodman said on 'Breaking Bad' that he had two ex-wives
Re-watching Breaking Bad as a Better Call Saulfan means looking out for any small references or foreshadowing that couldexplain where Jimmy McGill's story mightbe heading. And since the writers are such sticklers to detail, there'slittle chance they'll betray any of the events that have already happened.
Fans already noticed that Saul Goodman says he has two ex-wives. In the third season of Breaking Bad during the episode "Green Light," Saul says to Walt, "I caught my second wife screwing my stepdad. OK? It's a cruel world, Walt. Grow up." This line, which Gilligan regrets in hindsight, automatically forced Better Call Saul writers to come up with a story for those wives.
Now Saul and Kim are officially married — and they can't get divorced
As expected, Better Call Saul writers address Jimmy's two previous marriages in Episode 7, "JMM" before he and Kim tie the knot. When they're applying for a marriage license at the courthouse, the clerk asks for paperwork confirming Jimmy's "two previous dissolutions" so he and Kim can make their relationship official. That effectively ties up the loose end of those two ex-wives.
However, it also poses a terrifying problem for fans of Kim Wexler. If she's not one of Jimmy's two ex-wives, then what exactly happens to her?
Fans are convinced Kim could still be alive during 'BreakingBad'
There was a theory circulating, even before Kim and Jimmy got married, about Kim being secretly alive during the events of Breaking Bad. Who's to say that Saul wasn't going home to his lawyer wife each night, recounting the antics of his wild days defending criminals?
Of course, this is a little far-fetched considering how Kim is already being pushed to her breaking point with Jimmy and isn't a huge fan of Saul. But now that we know she's not one of his ex-wives, we know the truth: either Kim dies, or she goes away and they stay married for some reason.
New theories suggest that Kim could disappear with a new identity just like Jimmy does later courtesy of Ed the Vacuum Repairmen. If she becomes a target of the cartel, then that's a real possibility. Or, show creators could break our hearts and have Jimmy's dangerous new clients kill her. It's impossible to know what it will be.
One thing we do know: Jimmy and Kim will not get divorced. We'll just have to keep watching to see where they both end up.
Catch new episodes of Better Call Saul at 9 p.m. ETon AMC.
Source: Read Full Article