Celebrities You Forgot Became Huge Game Show Hosts
Decades ago, the world of television was fairly segmented (via The Washington Post). There were sitcom stars, dramatic actors, soap opera performers, and hosts — and everybody pretty much stayed in their lane. Hosting fell under a large umbrella in the early years of TV, as charming, energetic, and engaging personalities helmed and kept moving everything from talk shows to late night variety shows to game shows. 
Well into the '80s and '90s, the game show host was a particular archetype, and almost all of them were seemingly helmed by the same handful of guys. But with the commodification of celebrity came actors and famous people of other trades who wanted to try their hand at game shows. After all, game shows are a lot of fun and they make people happy, both contestants and viewers, by giving away life-changing money to regular people. Over the last 20 years or so, lots of big-time celebrities made a big-time career shift and decided to pause their usual pursuits in favor of the bright lights and loud noises of TV game shows.
Mike Myers revived The Gong Show but as a character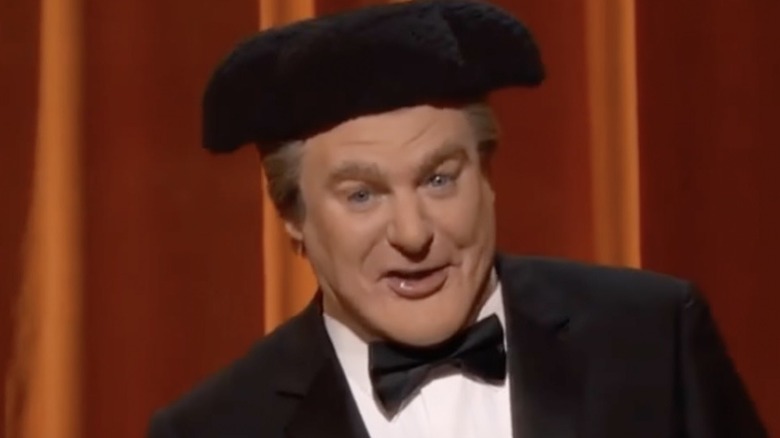 Almost instantly becoming one of the biggest breakout stars in the show's history when he joined "Saturday Night Live" in 1989, Mike Myers virtually disappeared into his many broad, ridiculous, and nuanced characters. Among his contributions to the series: "Coffee Talk" host Linda Richman, off-putting German nihilist Dieter of "Sprockets," and cable access show host Wayne Campbell. Myers expanded the latter into two very successful "Wayne's World" movies in the early '90s, and then kept up the deep character work on the big screen, notably playing the titular swinging '60s hero, villainous Dr. Evil, and secondary bad guy Fat B****** in a series of "Austin Powers" movies.
After his film "The Love Guru" was met with savage reviews and low box office returns in 2008, Myers cut down on the high concept stuff for a while; he eventually charged back into the spotlight unrecognizable under layers of makeup and prosthetics with ABC's summer primetime reboot of "The Gong Show" in 2017. As in the original show from the '70s and '80s, guests appeared and displayed their unique talent, or lack thereof — if one of the celebrity panelists didn't like the act, they'd hit a huge gong to end the performance and send them packing. But the true pull of the show was Myers, who didn't host as Mike Myers — he headlined "The Gong Show" in character as an obnoxious, washed-up, tuxedo-clad British comedian named "Tommy Maitland" (per The Hollywood Reporter).
Alan Thicke got wild with a Saturday morning game show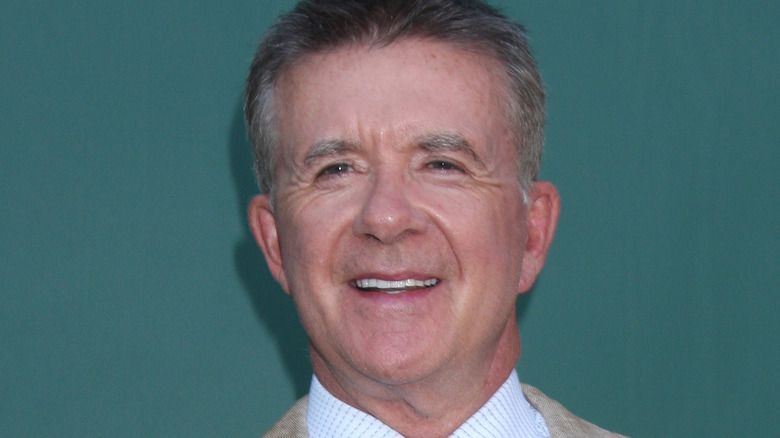 The path to American sitcom fame for Alan Thicke was a long and odd one. He'd served as a writer on the 1970s talk show parody "Fernwood 2Night" and wrote and sang the theme song to the long-running comedy "Diff'rent Strokes." However, in 1980, Thicke started hosting a chat program in his native Canada, "The Alan Thicke Show," which proved so popular that American TV producers had him bring it to the U.S. and reformat it slightly into "Thicke of the Night." The syndicated show was quickly cancelled when it couldn't cut into the dominant ratings of NBC's "The Tonight Show Starring Johnny Carson." 
Nevertheless, Thicke was such an affable presence that despite his limited acting experience, he landed the lead role in 1985 on ABC's "Growing Pains" (via the Los Angeles Times). That family sitcom was very popular with kids — they helped make the show a top 10 hit, and ABC's most watched program in the 1986-87 season — so the network installed Thicke on a child-friendly, Saturday morning game show called "Animal Crack-Ups." For three years, Thicke presided over a chaotic, complicated game show that combined funny videos, animal knowledge, celebrities, and game play. Stuffed animal-clutching celebrities — usually kid stars like Fred Savage of "The Wonder Years," or Soleil Moon Frye of "Punky Brewster" — would watch clips of wild animals and then try to answer trivia questions about them, in hopes of winning money for animal welfare charities.
Greg Kinnear schooled college kids on a game show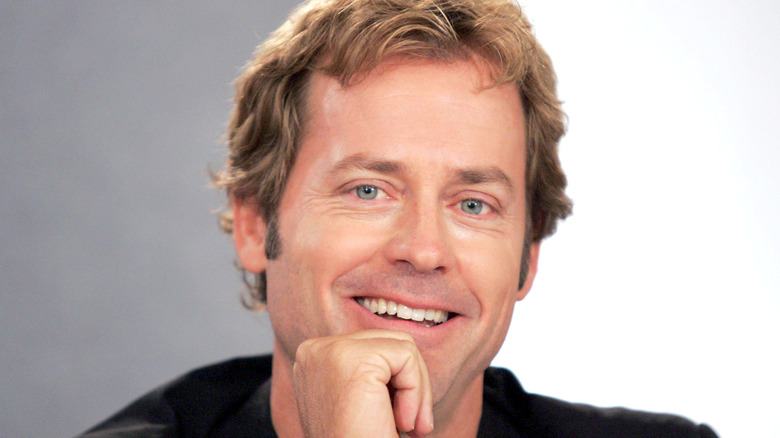 If one were to make a list of celebrities who had been nominated for an Oscar, hosted a late-night network talk show, and lorded over a game show for frat guys, probably the only name to write down would be Greg Kinnear. The prolific actor is best known for "Little Miss Sunshine," "Stuck on You," "Nurse Betty," "Mystery Men," "Anchorman 2," and his Academy Award-nominated role in "As Good as It Gets." But before all that, he was the charming and funny host from 1994 to 1996 of "Later," taking over from sportscaster Bob Costas as the host of the half-hour interview show that aired at 1:30 a.m. in most of the United States. But before all that, and in one of his first on-screen gigs, Kinnear hosted the 1989 game show "College Mad House."
In the 1988-89 season, the kids' game show "Fun House" was a hit. Kids competed in messy "Double Dare"-like stunts, drove go-karts, and then explored a massive, wacky, booby-trapped mansion to find tags that won them prizes and cash. "College Mad House" was a spinoff or remake of "Fun House," inviting on college students (representing rival institutions) instead of children. Any prizes they won, the college kids got to keep; the money went to their school.
William Shatner trekked into game shows with Show Me the Money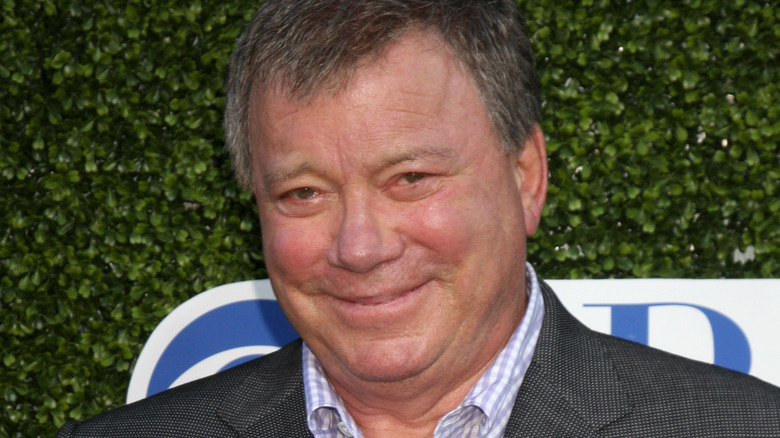 William Shatner first came to fame in the 1960s for portraying Captain James T. Kirk on the classic "Star Trek," a role he'd reprise in multiple movies over the next few decades. Shatner's acting style was not subtle nor naturalistic — he was unfailingly hammy, over-the-top, and unpredictable with his choices. In other words, he offered just the right mixture of bombast and charisma required of a game show host.
In 2006, ABC got Shatner to host the primetime game show "Show Me the Money." It was clearly ABC's answer to NBC's biggest show of the previous season: "Deal or No Deal," a game show hosted by comedian Howie Mandel in which contestants won money by guessing the dollar amounts in briefcases held aloft by models. "Show Me the Money" worked as such: each of the dozen or so "Million Dollar Dancers" possessed a scroll, upon which was written a different high dollar amount. In each turn, a contestant had to correctly answer a multiple-choice word association game, and they got to pick a dancer, and the amount on her scroll would go into their pot of winnings. "Show Me the Money" did well enough in its initial airings that ABC expanded its order of six episodes to 13. But despite the effervescent and captivating involvement of Shatner, viewers quickly tuned out, and ABC changed course and cancelled the show, per TV Series Finale.
Guy Fieri lent a minute of his time to this game show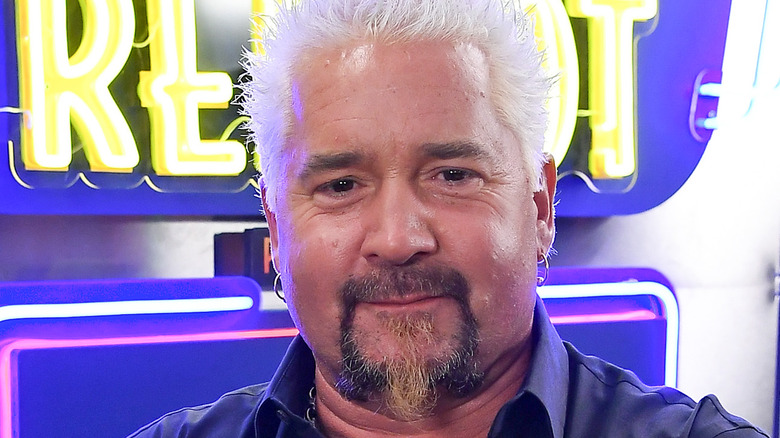 "Beat the Clock" is one of American entertainment's most enduring properties. Originating as a radio program called "Time's a Wastin'" in 1948, according to The Encyclopedia of Daytime Television, it jumped to CBS TV in 1950, making it one of the earliest television game shows. It ran off and on in various iterations hosted by different stars, including Bud Collyer and Monty Hall, all the way until 1980. The format remained largely unchanged: Contestants had to accomplish seemingly simple but actually difficult tasks — party tricks, mostly — in a set, short period of time. In 2010, NBC brought back "Beat the Clock" to its nighttime schedule in the form of the very similar "Minute to Win It." Once more, competitors had to do tough things, but in a stressful one minute or less. The first host of this new version, watched by millions of people each episode: Guy Fieri, the highly-recognizable Food Network personality known for his spiky hair, traversing the country in a red convertible on "Diners, Drive-Ins and Dives," and "Flavortown" catchphrase.
NBC cancelled "Minute to Win It" in 2011, but Game Show Network ordered a revival in 2013. Fieri didn't return, replaced with Apolo Anton Ohno. At one point, according to Britannica, Ohno was the most decorated American Winter Olympian ever, winning two gold medals, two silvers, and four bronzes over the course of three Games. He also won "Dancing with the Stars" in 2009.
Mario Lopez was an a-maze-ing game show host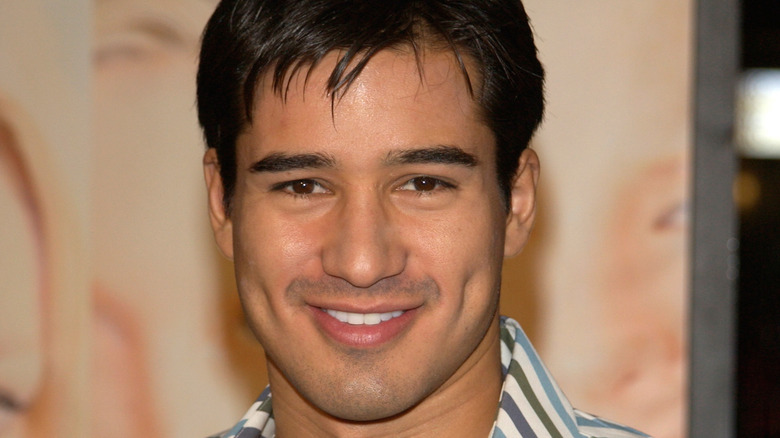 Mario Lopez has made thousands of hours of television, but he'll likely always be best known for the breakout role he secured as a teenager (and which he reprised in a 2020 revival series for Peacock): Bayside High School jock and changing male chauvinist A.C. Slater on "Saved by the Bell." In 1992, while still portraying Slater, he started hosting the wish-fulfilling reality show "Name Your Adventure," heralding his decades-long career of energetically hosting television shows. 
Additionally, Lopez was at the forefront of "Extra" for years, then the show's competitor "Access Hollywood," as well as competition shows like "America's Best Dance Crew" and "The X Factor." Almost forgotten in Lopez's long career was his 1995 stint hosting the kids game show "Masters of the Maze" on the now-defunct The Family Channel. Lopez egged on two teams of two individuals, challenging them to identify objects in obscured photos and egging them on as they faced obstacles and physical challenges in things like a hall of mirrors and the "Chamber of Knowledge," seeking "Power Sticks" and their search for cash and prizes.
Billy Gardell's career was briefly all about Mike and Molly and Monopoly and millionaires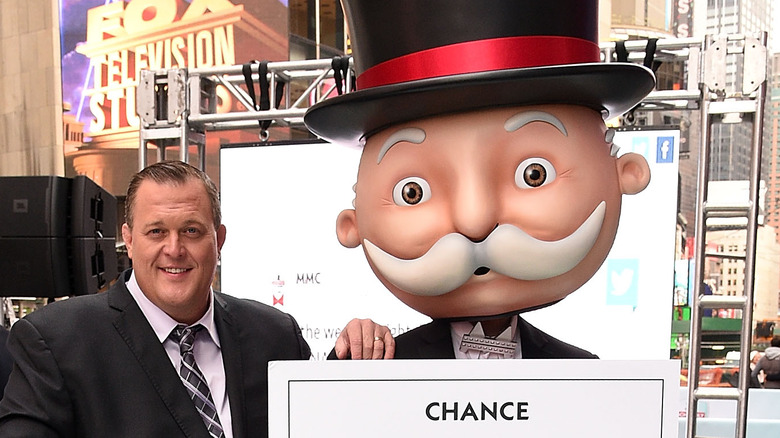 "Mike and Molly" landed on CBS's primetime schedule in the fall of 2010. Stand-up Billy Gardell portrayed Mike Biggs, a Chicago police officer and mama's boy who attends an Overeaters Anonymous meeting and meets the woman of his dreams (and eventual wife), grade school teacher and budding writer Molly Flynn, portrayed by Melissa McCarthy. After the show's first season, McCarthy won an Emmy for her role, not long after her movie "Bridesmaids" earned $288 million at the box office. That launched McCarthy onto the comedy film A-list, and while co-starring on "Mike and Molly" until 2016, she'd headline multiple movie hits, including "Identity Thief," "Spy," and "The Heat."
But "Mike and Molly" was such a hit — it consistently ranked among the top 30 most-watched shows — that Gardell's skills and talents were in demand, too. In 2015, he started hosting the syndicated game show "Monopoly Millionaires Club," an elaborate, expensive affair based on the titular, familiar board game. "I wanted the biggest game show on television," Gardell told Variety. "They built a 50,000 square-foot LED stage in Las Vegas, and it's going to be the biggest cash game show on television. Contestants could indeed win as much as $100,000 in one segment of the show, or $1 million per episode." Despite the alluring premise, the program lasted just one season.
Wilmer Valderrama had some things to say about Yo Momma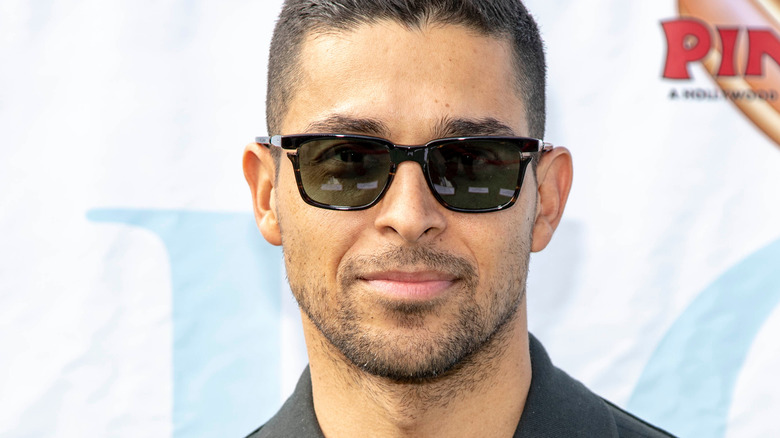 Despite taking place in the late 1970s, "That '70s Show" became a cultural touchstone for teens and young adults in the late '90s and early 2000s. As one of the few network comedies of the time for and about high school kids, it struck a timeless note and most of its young, ensemble cast members were propelled to even bigger things even before the show's eight-year run concluded in 2006. Topher Grace starred in well-received films like "In Good Company," Ashton Kutcher became a movie star and the host and co-creator of the celebrity prank show "Punk'd," and Wilmer Valderrama, who portrayed quirky, lovelorn exchange student of unknown origin Fez, secured his own MTV series called "Yo Momma."
Valderrama created and hosted this edgy, youth-oriented game show in which he and producers scoured the United States to find the most skilled individuals in the field of competitive trash-talking. For three seasons, Valderrama sought out and gave a showcase (and prizes) to young men and women who could cruelly and crudely freestyle insult one another.
Bob Saget headed up the world's biggest game show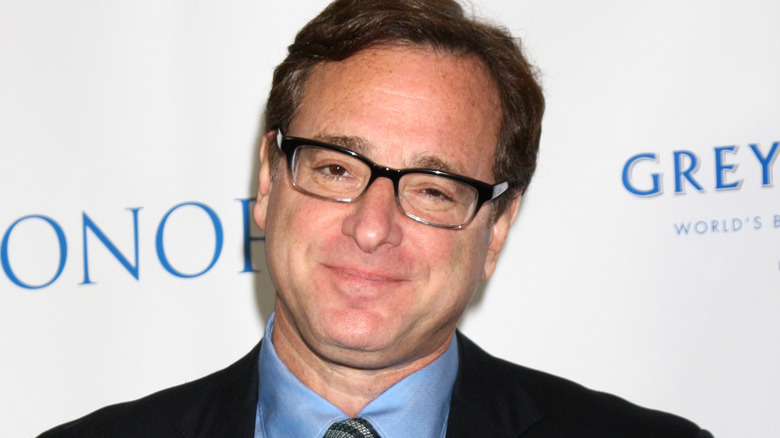 It's hard to imagine or recall far back enough to remember a time when Bob Saget wasn't regularly on television. A raunchy, adults-only stand-up comedian in the 1980s, Saget went national as a co-host of CBS's "The Morning Program" in 1986. A year later, he took a role on the ultimate treacly family sitcom, "Full House," portraying, oddly enough, a morning show host who was also suddenly and tragically a single father of three precocious daughters. During his eight-year stint on "Full House," Saget did double-duty for ABC, hosting (and providing high-pitched audio commentary for) "America's Funniest Home Videos."
By the mid-2000s, Saget settled into a quiet, uncredited role as the from-the-future narrator of the CBS comedy "How I Met Your Mother," before jumping to NBC in 2006 as the host of what is likely the most populated game show in TV history, "1 vs. 100." "I've been saying no to game shows since the video show," Saget told TV Guide. However, the novelty of "1 vs. 100" apparently hooked him. Running on NBC for two years (and then revived on Game Show Network from 2010 to 2011), the program featured a single contestant competing against "The Mob," a group of 100 people. With each passing trivia question, those who answered incorrectly were eliminated, theoretically leading to the contestant besting the entire group by episode's end.
Paul Reubens went from Pee-wee to Troy Stevens on You Don't Know Jack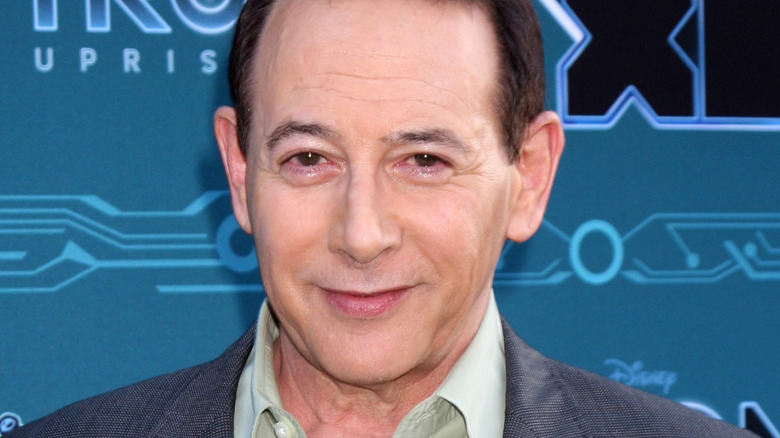 Paul Reubens became extremely famous in the 1980s, but a lot of people didn't even know his name. He was deeply entrenched into his signature character, a goofy, subtly subversive man-child name Pee-wee Herman. The character was the centerpiece of a popular stage show filmed for HBO in 1981, which led to the Emmy-winning and wildly imaginative Saturday morning series "Pee-wee's Playhouse" and two big-screen movies, "Pee-wee's Big Adventure" and "Big Top Pee-wee."
After Reubens was arrested at an adult theater for committing a lewd act in 1991, according to the New York Daily News, he retreated from public view for awhile; he later re-emerged in projects way different than Pee-wee Herman fare and in which he was barely recognizable. He played young Penguin's father in "Batman Returns," a vampire named Amilyn in the film version of "Buffy the Vampire Slayer," and in 2001, Troy Stevens on "You Don't Know Jack." On this adaptation of the irreverent, comedic computer trivia game, Reubens hosted fully in character as a slimy, unctuous, and self-absorbed game shot host while also managing the mechanics of the game. The high-concept mix of scripted comedy and game show didn't attract a lot of viewers, and ABC cancelled "You Don't Know Jack" after six episodes.
This game show with Donald Faison was pure Winsanity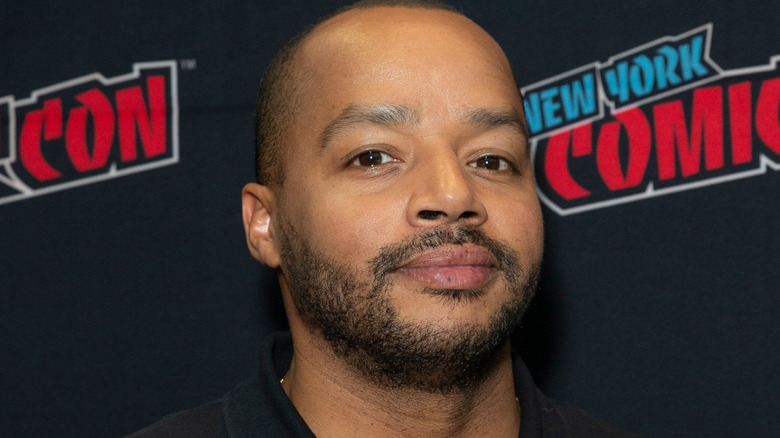 The job requirements for most any game show host: be excitable, strike up a familiarity and rapport with contestants, and possess boundless energy. Actor Donald Faison exhibited all those qualities in his two most well-known roles: high school wannabe cool guy Murray in both the film and TV versions of "Clueless," and the very confident, animated, often dancing surgeon Dr. Christopher Turk on "Scrubs," where he helped define the TV bromance opposite real-life close friend Zach Braff.
Faison was a no-brainer of a choice then for the producers of "Winsanity," a game show that debuted on the Game Show Network in 2016. By smashing a big green button on stage, Faison would bring to the stage whatever person in the audience noticed their green bracelet glowing. Then he challenged them with math-and-numbers-based trivia questions, with a prize of $10,000 and also a car possibly on the line. Faison hosted two seasons of the fast-paced, high-energy "Winsanity" on GSN before the network turned off the green light (per TV Series Finale).
Drew Carey hosted slightly more than 10 episodes of Power of 10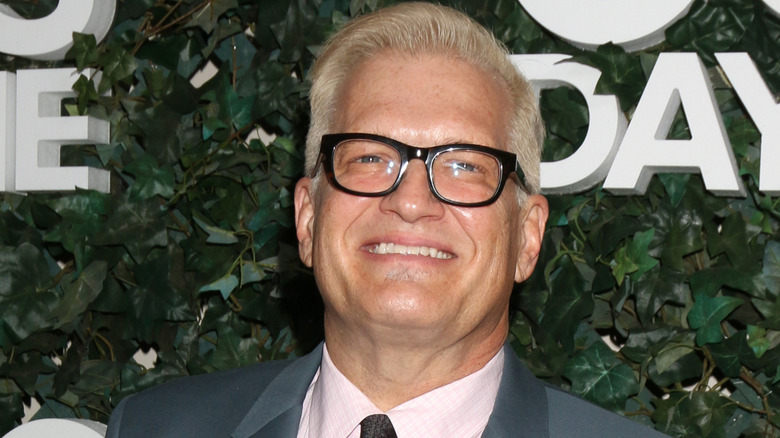 In the late 1980s and early 1990s, it seemed like every well-known stand-up comedian got their own sitcom that adapted their act, persona, and unique sensibility. Alongside Roseanne Barr, Tim Allen, and Jerry Seinfeld, Drew Carey benefitted from the phenomenon, starring on ABC's "The Drew Carey Show" from 1995 to 2004. In addition to playing an office drone for a Cleveland department store who just wanted to drink beer and shoot pool in his backyard with his friends, Carey also spent nine years hosting the American version of the improv comedy performance show "Whose Line is It Anyway?" It was sort of like a game show in that comedians scored points, but the ways in which they could win were amusingly never clarified or explained.
In the summer of 2007, Carey jumped networks to CBS in order to host "Power of 10." A gently cerebral, math-oriented show, contestants could win as much as $10 million if they correctly predicted the results of surveys, with each positive response multiplying their winnings ten-fold, or rather, by the power of 10. The show lasted less than 20 episodes before CBS calculated that the ratings weren't good enough to continue. "Power of 10" would be Carey's first failed game show and the most forgettable one he's hosted. Fortunately, right around the same time he took over for Bob Barker as the host of the CBS daytime stalwart "The Price is Right."
Dennis Miller asked contestants tough questions about their own lives on Amne$ia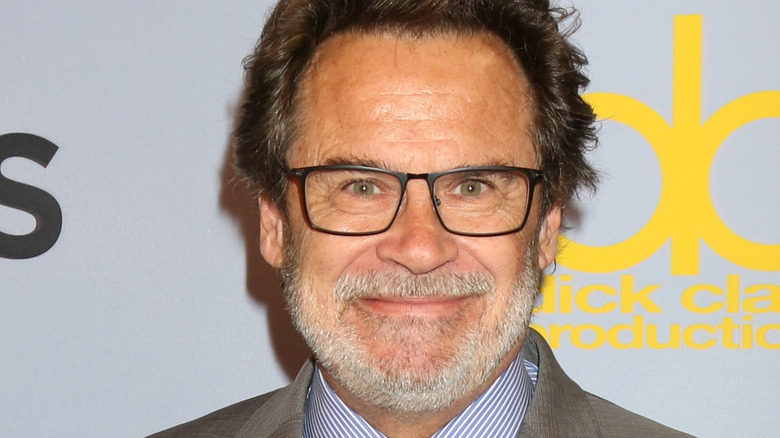 In the middle of the 2007-2008 TV season, according to TV Guide, NBC added to its Friday night lineup a new trivia quiz show called "Amne$ia." A twist on the usual general knowledge format, "Amne$ia" contestants could win fabulous prizes if they correctly answered really difficult trivia questions about … themselves. In a clever choice of host, producers — among them Mark Burnett of "Survivor" and "The Apprentice" — selected Dennis Miller, a former "Weekend Update" anchor on "Saturday Night Live" and comedian whose entire schtick was showing off his vast knowledge; he wove into his act obscure references to everything from literature to ancient history to mythology to forgotten pop culture. "It's 'This Is Your Life' meets 'Jeopardy!'" Miller characteristically said of "Amne$ia." "Between the intricacy of the questions and the fact that we keep tabs on life like it's a textbook, things fall between the cracks. Therein lies the mirth!"
NBC cancelled "Amne$ia" after just eight episodes, turning it into the kind of poorly remembered obscurity that Miller could reference.
Source: Read Full Article