Clare Crawley and Dale Moss Just Made Their Relationship Instagram Official
Dale Moss and Clare Crawley juuuust might be one of the most dramatic Bachelorette pairings to come out of the entire franchise (so much so that we have a literal timeline of all the drama that happened in the time they've been together), but it *finally* seems like they're taking the next step in their on-again, off-again relationship: They've gone Instagram official as of like…today!
After going on an afternoon coffee run, Dale took a pic of him and Clare standing together in front of a mirror and captioned the snap, "Selfie skills on 💯." And just to make things exxxxtra official, Dale went ahead and tagged Clare's IG handle before posting to his Stories. Take! A! Look!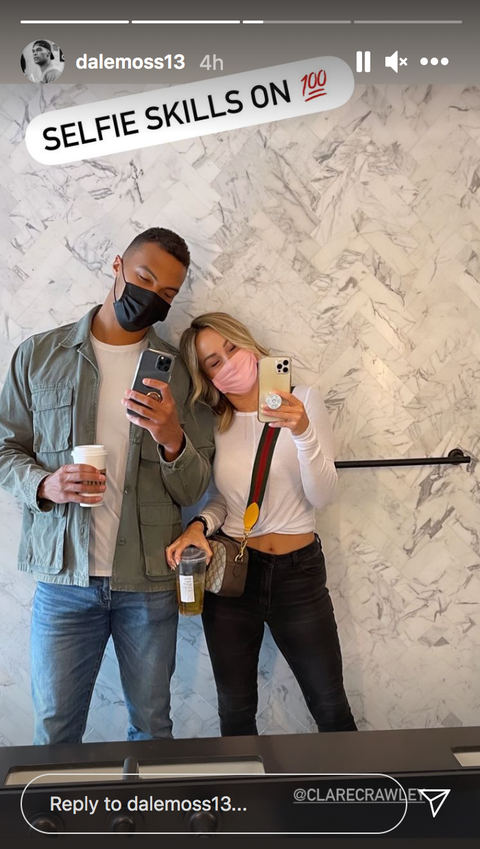 Clare and Dale have been spending time together fairly regularly and have been posting pictures of the same locations, but have yet to put such a definitive stamp on their relationship before today…despite being caught kissing each other in New York City last month. At the time, an Us Weekly source updated fans of Clare and Dale's 'ship on where things stood between the two.
"Clare and Dale are dating again, they're working on things in their relationship," a source told the outlet. "Nothing has been made official with regards to an engagement, they're enjoying their time together and taking things as they come."
A second source told Us that Clare and Dale are "taking things slowly" as they try to figure out what's going on in their relationship."They are now just starting to really understand all the difficulties a public relationship can create, and they want to make sure they are giving their relationship the opportunity it deserves without all stress and anxiety that followed after the show," the source said, adding they are also "supporting one another" as they figure what to do with their lives after The Bachelorette.
Welp…looks like we can anticipate plenty of lovey-dovey selfies of Clare and Dale in the future!
You love all the deets on The Bachelor franchise. So do we! Let's overanalyze them together.
Source: Read Full Article