'Rick and Morty's 'Samurai & Shogun' Short Has Fans Itching for New Episodes Amid the Season 4 Hiatus
Sorry, Rick and Morty fans. It's almost April 2020 and the fourth season hiatus continues on with no news in regards to the final five episodes. However, Toonami recently aired an anime-inspired Rick and Morty short titled Samurai & Shogun. Of course, the 6-minute teaser caught everyone off-guard. Meanwhile, many individuals applauded the network for their masterpiece of escapism. But even so, other fans voiced their disappointment as Samurai & Shogun was not the Rick and Morty Season 4, Part 2 premiere they had hoped.
'Rick and Morty' releases the 'Samurai & Shogun' short on Toonami
Samurai & Shogun features Samurai Rick — aka Rick WTM-72 — and Shogun Morty as they face off with a group of Ninja Ricks in a bloody battle. The short was created by Studio Deen, who brought shows like Rurouni Kenshin and The Seven Deadly Sins: Wrath of the Gods to life. The animation studio also cast the voice actors of the Rick and Morty Japanese dub, Youhei Tadano and Keisuke Chiba, to portray Rick WTM-72 and Shogun Morty respectively. 
Then on March 28, Adult Swim's senior vice president and creative director, Jason DeMarco, shared how the Rick and Morty Samurai & Shogun short came to be.
"Yeah so we spent a year putting together a five minute Rick and Morty Lone Wolf & Cub anime short for you guys," DeMarco wrote on Twitter. "Here it is, hope you dig it! Don't tell me we don't have the most fun!"
'Rick and Morty' fans react to the 'Samurai & Shogun' short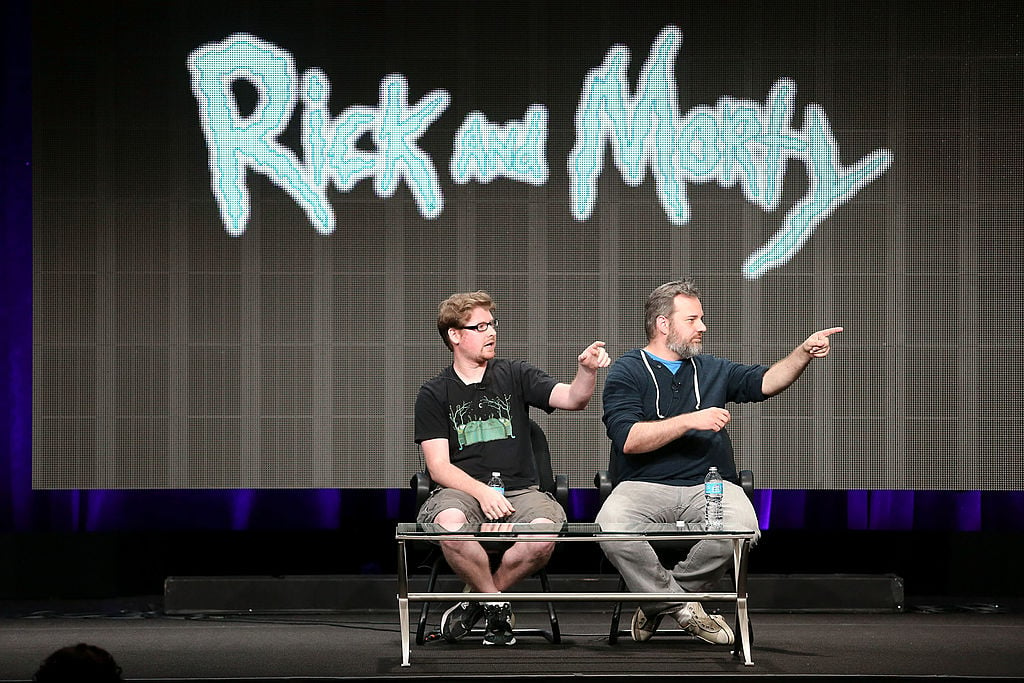 Following the release of Samurai & Shogun, Rick and Morty fans shared their reactions on social media. And for the most part, viewers were either surprised or impressed by the short.
"Yeah. This was unexpected," a fan wrote in response to the Rick and Morty clip, adding a thumbs-up emoji.
Then another fan applauded the short by penning commentary that Rick would probably say, burps and all.
"When the f*ck did @JustinRoiland decide that a Rick and Morty Anime would be a good idea? Like *braaaaaaaap* last week?? Cause *braaaaap* it's a really damn good idea and, and I need more," the fan wrote on Twitter. "Morty, I need more of this anime. Go get me more this morty. Morty, seriously this is dire."
Meanwhile, other Rick and Morty fans continued to bring up the fourth season hiatus. 
"Y'all do everything except release the new episodes. Use me as a 'we want the rest of season 4' button," a fan wrote on Instagram. The comment has since received over 5,000 likes.
"As a fan I liked the samurai shenanigans but I feel betrayed about season 4. I have spoken," another fan wrote on Twitter.
Rick and Morty's Samurai & Shogun may have stunned fans with a good time, but it's clear the new short also reminded everyone about the season 4 drought. So can we expect new episodes anytime soon? Back in December 2019, the Adult Swim animated series announced the fourth season will return in 2020. The Rick and Morty social media channels also told fans to put their trust in them. Now there are nine months left in 2020. And with more teasers being released, we can only hope an announcement of some sort will be made soon. 
Read more: 'Rick and Morty': This Evil Morty Origin Theory Will Make the Season 4 Midseason Hiatus Feel More Bearable
Source: Read Full Article