'Superstore' Reveals How America Ferrera's Character Will Be Written Out of the Show
On February 28, America Ferrera announced she planned to leave Superstore at the end of the fifth season. Because production of the show ended early due to the coronavirus (COVID-19) outbreak, Ferrera will return for season 6 to wrap up Amy Sosa's story line. In the newest episode of Superstore, "Customer Safari," viewers learned how Ferrera's character will be written out of the show.
[Spoiler Alert: This article contains spoilers for the most recent episode of Superstore.]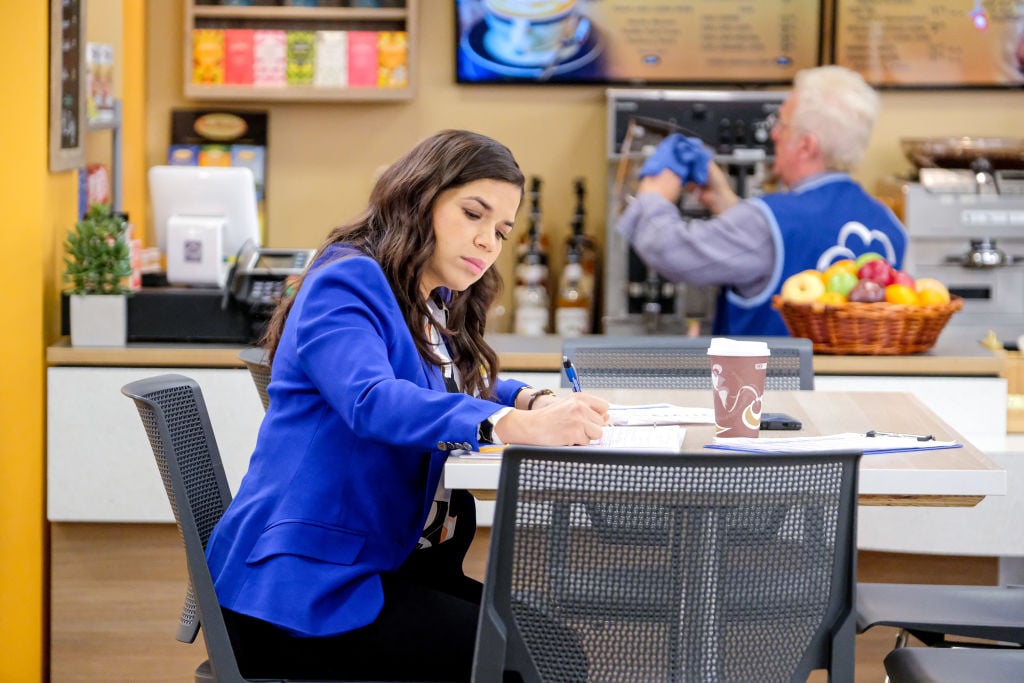 Amy has lunch with Jonah's family in 'Superstore'
In the latter half of season 5, fans have seen how ingrained Amy and Jonah are in each others' lives. This makes Ferrera's planned exit even more painful, especially for fans who ship Amy and Jonah.
In "Customer Safari," Amy goes to lunch with Jonah's family. His parents and brother unmercifully tease him, and Amy gets protective and snaps. While she is about to reveal a lie Jonah's brother told, Jonah's father instead reveals that he cheated on Jonah's mother again.
Amy follows Jonah's mother to the bathroom and apologizes for how the revelation happened. She explains that she just wanted to protect Jonah. After their talk, Jonah's mom realizes that Amy and Jonah have something really special, and she deserves a relationship like that too. At the end of lunch, she asks Jonah's father for a divorce.
Seeing how much Jonah and Amy care for one another was incredibly sweet to watch. That was immediately undercut at the end of the episode when Amy receives a call from Zephra asking her to interview to be the Director of Customer Experience. If she got the job, Amy would have to relocate to Palo Alto, Calif.
There is only one episode of 'Superstore' left
"California Part One" will air on April 23 on NBC and will act as the fifth season's new finale. Because of the coronavirus, the season has one less episode than originally planned.
On March 15, Ferrera posted a farewell video on her Instagram story.
"So today is unexpectedly my last day shooting on Superstore for the season. We're shutting down production," she said. "I'm about to go shoot my last scene. None of my cast members are here, and this is not how we expected to be ending the season."
She added, "I assume [this] means we'll be coming back when things clear up to finish Amy's story line."
America Ferrera will now return in season 6 of 'Superstore'
The synopsis for "California Part 1" reads:
"After Mateo and Cheyenne disagree on how to celebrate her 21st birthday, Cheyenne enlists Bo's help; to Garrett's chagrin, Glenn plays matchmaker to help Jerry and Sandra complete their family; Dina tries to help Amy keep a big secret from Jonah."
Based on this, it seems that Amy plans to interview for the job in California, but elects to try and hide it from Jonah. Because this episode was not meant to be the finale, Ben Feldman, who plays Jonah, confirmed Ferrera will return in season 6.
"[America] has every intention to come back," Feldman told TVLine. "She wants to see a proper send-off for Amy, so my guess is that'll be worked into next season. Of course, she's pregnant, so we'll have to figure it out. Then it just becomes a scheduling thing."
Source: Read Full Article