'The Last Kingdom': Is This Brida's Look for Season 5?
The Last Kingdom is currently in production for season 5. But fans recently learned the upcoming season will sadly be its last. Emily Cox, who plays Brida, recently shared some images of herself dressed as Brida in what could be her look for season 5.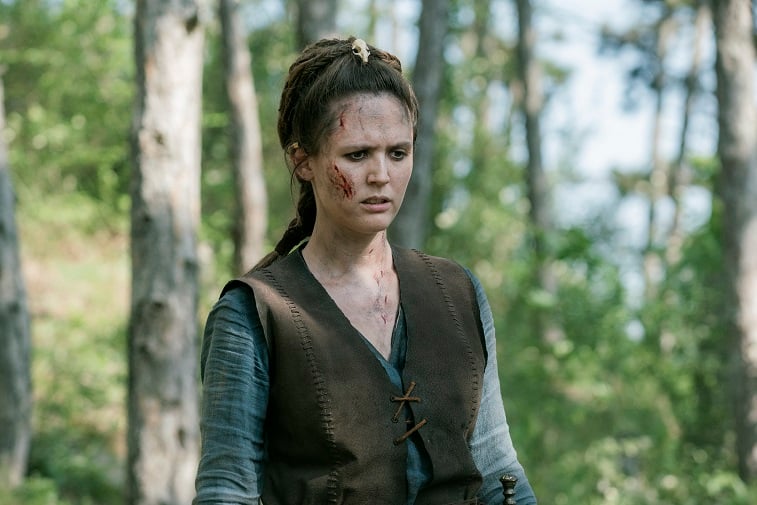 Season 5 of 'The Last Kingdom' is in production, but it will be the final season
The series, which is based on Bernard Cornwell's beloved novel series The Saxon Stories, is back in production according to a video recently shared on the official social media channels. In it, a number of fan favorites can be seen, including Emily Cox as Brida, which as much as confirms her involvement in the new season.
But ahead of the video being released the news dropped that season 5 will be the final season. Deadline announced the news of the conclusion of the series with season 5, verifying the news with Netflix and Carnival Films.
Season 5 will follow the next two novels in the series, nine and 10, which are titled, "Warriors of the Storm" and "The Flame Bearer," according to Radio Times. It will consist of 10 episodes, and viewers could see it later this year or in the beginning of 2022.
Who is Brida in 'The Last Kingdom'?
Brida was a Saxon child when she was taken in by the Danes. She becomes lovers with the main character, Uhtred (Alexander Dreymon) at one point, and their relationship is more than complicated despite them having grown up together.
Brida, loyal to the Danes, was once the significant other of Young Ragnar (Tobias Santelmann) before he was killed, and then she was with Cnut (Magnus Bruun), whom she killed upon learning of his involvement in Ragnar's death. Cnut had spoken and encouraged Aethelwold (Harry McEntire) to kill Ragnar, and Aethelwold ends up slaying Ragnar.
Brida has Cnut's child, and she also holds a major grudge against Uhtred for him not killing her when she was cornered by the Welsh in battle after killing Cnut.
Is this Brida's look for season 5?
https://www.instagram.com/p/COS4iz3hSdP/
Emily Cox recently shared some images of herself dressed as Brida, and it could very well be Brida's new look for season 5 as production is currently underway in Hungary. In the first image shared two weeks ago, Brida looks over her shoulder at the camera while wearing furs on her shoulders. She has her hair back with people surrounding her. She has ear cuffs on and material braided into her hair.
https://www.instagram.com/p/COzoWQ1hCQi/
The next image, which was shared five days ago, could be from the current production session in Hungary based on Brida's new look, which hasn't been seen before. Emily Cox has her sunglasses on as she takes an image with the camera facing upward. A blue sky is overhead while she wears a brown shirt with layers of animal hide and furs. There is even fur around her neck, so it's possible Brida is bracing for cold weather. Her hair is back, and it's quite an impressive image, which the official The Last Kingdom Instagram account is tagged in. 
https://www.instagram.com/p/CO5BQlmBFFD/
Three days ago, Emily Cox also shared a few images of herself and Eliza Butterworth, who plays Lady Aelswith, as they sit on a dock surrounded by a body of water. Emily Cox wears a similar look as before in a brown ensemble with long sleeves and animal hide wrapped around the top. She also has on a red belt and brown pants to match. Both Eliza and the official Instagram account for the series are tagged as well as the person who took the photo.
Followers of Emily Cox on Instagram may have gotten their first glimpse of Brida in season 5. We'll have to see if she posts anything else before season 5 of The Last Kingdom drops.
Source: Read Full Article