'The Masked Singer': Caitlyn Jenner, More Unmasked Celebs Return to Rickroll You (Exclusive Video)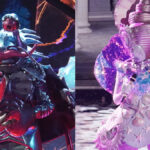 The singalong Maskys also feature the continuing contestants who are still in the running for Season 5's Golden Mask trophy: Russian Doll, Robopine (f.k.a. Porcupine), Yeti, Chameleon, Black Swan and Piglet. Those six will return to compete next week for an episode that will end in an elimination.
Here's the official description for Wednesday's singalong episode, courtesy of Fox: For the first time ever, Nick Cannon hosts "The Masky Awards," a special singalong episode celebrating the "best of" Season Five. The Season Five contestants boast a combined 26 Grammy Award nominations, nine multi-Platinum singles, four Academy Award nominations, three Super Bowl appearances, six gold medals and two world records! Find out which Season Five characters are awarded "Masky's" in the all-new "The Sing-A-Long: The Masky Awards" special singalong episode of "The Masked Singer."
"The Masked Singer" airs Wednesdays at 8/7c on Fox.
Source: Read Full Article