The Original Songs in 'High School Musical: The Musical: The Series' Helped Make the Show The Hit It Is and Season 2 Needs More
High School Musical: The Musical: The Series might not have been an appealing idea for millennials and anyone who lived through the original trilogy. Disney Channel definitely doesn't pander to that demographic. And with Disney+ so new, it was hard to guess who this show was made for. However, since it debuted, it's very obvious that the show was not only made with those original fans in mind, but it brought great writing and a unique storyline to the forefront. 
The unique structure was the meta aspect of it all. They put the setting at the actual, real-life high school the High School Musical movies were shot at and focused on kids who went there putting on a production of High School Musical. But what really makes the series stand out are the new songs, written for the show.
They actively made the series different than 'High School Musical,' but it still works
These new, original songs took the series from being just a jukebox musical of sorts and made it its own. It set its own tone that aided the well-written script and great actors. The way the creatives went into this show would have made it stand out from the original movies regardless, but the songs were just the extra cherry on top. 
"Everybody was so careful to make sure that it's not a remake and to make sure people know that it's not a remake. There's literally no way you can remake High School Musical," Olivia Rodrigo, who plays Nini, told Decider. "[The originals were] lightning in a bottle. We can't do that again, we have to do our own 2019 fresh take on it."
Disney almost didn't have Rodrigo and Bassett write songs for the show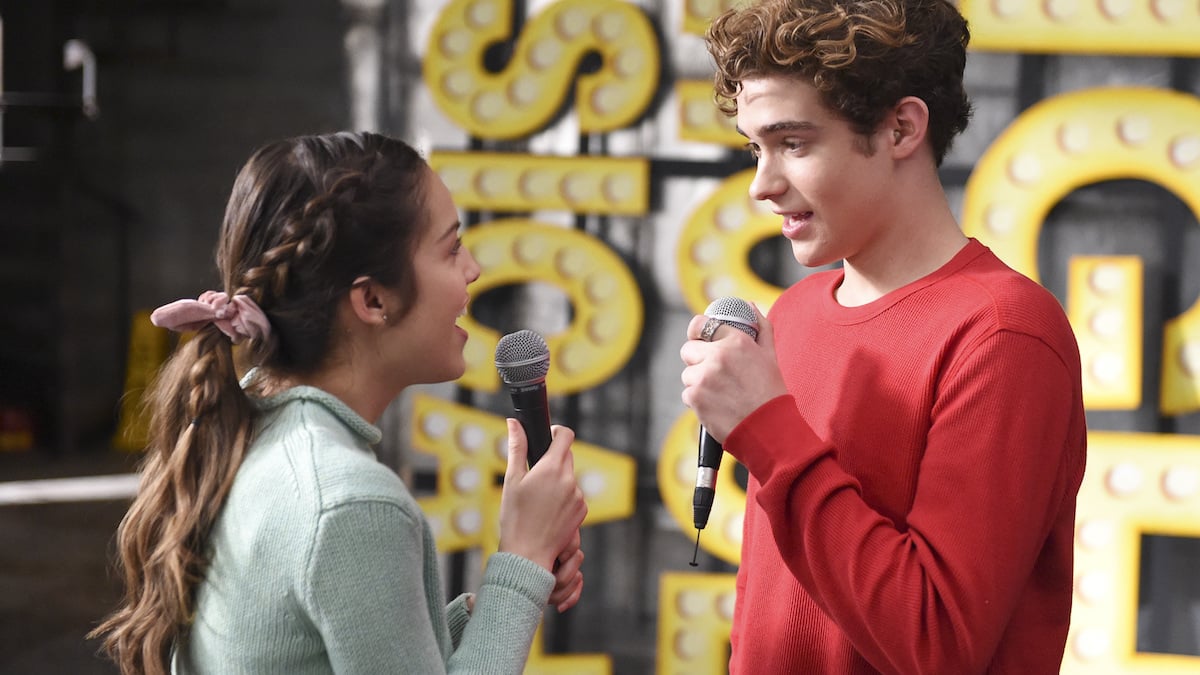 While we all love the songs "All I Want" and "Just For a Moment," which went on to become viral bops thanks to Tik Tok, they almost didn't put the actors behind the songs. But that was ultimately the best move, considering they know their characters the best and are pretty similar to them. It came off as pretty authentic because they can relate to what they're writing. 
"A lot of the songs are written by people on the outside who kind of get the breakdown and have to guess at where the characters are," Joshua Bassett, who plays Ricky, told Decider. "Because we had been living it in Salt Lake City, we were able to write from our perspectives, our characters' perspective. It made it that much more accurate because we knew what our characters were going through more than anyone else could. When you write from truth, great writing, that's where it comes from."
He said they wrote at every chance they could get in between breaks on set. They shared that the song "Just For a Moment" was influenced by Kate Bush, Regina Spektor, and Fiona Apple, Adele, and John Mayer. "All I Want" was written by Rodrigo alone, based on previous songs she's penned. 
The original songs keep the audience close to the actors and it adds to their show's experience
Beyond the fact that fans love these heartfelt songs written by the actors, original songs connect the audience to the piece of work so much better. Season 2 needs more original songs because fans interact with them and make them their own. 
"For me, it's seeing people do covers of the songs, whether it be people who do 'I Kinda, You know' covers or 'All I Want' covers. And 'All I Want' is viral on TikTok; it's crazy!" Rodrigo told Entertainment Tonight. "That's cool to see people take something that we made and put their own twist on it and present it to the world in a totally different way, which is essentially what our series is doing with the original movies. People are doing that with our songs, so it's this cool creative process and it's fun to listen to people! People are so talented."
So, while Season 2 is delayed because of the coronavirus (COVID-19) pandemic, when it does come out, hopefully, fans will get some more of that original music magic.
Source: Read Full Article