'A booster rocket that's fulfilled its function': Boris Johnson signs off as UK prime minister
London: An upbeat Boris Johnson has given his final words as UK prime minister praising his own record and declaring that his successor Liz Truss will see the country through the energy crisis, prevail over Putin and win the next election for the Conservatives.
Johnson made his last words as the UK's 55th Prime Minister early on Tuesday morning (Tuesday afternoon AEST) following his ousting by his party earlier this year, which culminated in Truss being elected by Tory members to replace him, although by the lowest margin of any Tory leader elected in a contest.
Boris Johnson bids adieu outside Downing Street as he leaves office.Credit:Bloomberg
With no hint of sadness or anger in his voice, he said his commitment to Ukraine had arguably changed the course of the war in Europe while also praising his COVID-19 vaccine rollout and the civil servants who delivered Brexit.
"That is government for you, that is Conservative government," he said.
And amid speculation he is eying a comeback, he likened himself to a rocket that had fulfilled its purpose as he addressed his future employment prospects.
"Let me say that I am now one of those booster rockets that has fulfilled its function and I will now be gently reentering the atmosphere and splashing down invisibly in some obscure and remote corner of the Pacific," he said.
Boris Johnson was surrounded by staff and family as he gave his farewell address. Credit:Getty
He said that as he left office unemployment was at a low not seen since he was about ten years old and "bouncing around on a space hopper."
But he acknowledged that it was time to pass the baton on. Truss' first priority will be addressing the energy crisis that has multiplied business and household energy bills into the thousands of pounds per month which would cause a swathe of bankruptcies
"I will be supporting Liz Truss and the new government every step of the way," he said.
"This compassionate and conservative government will do everything it can to get people through this crisis, and the British people will endure it, and we will win," he said.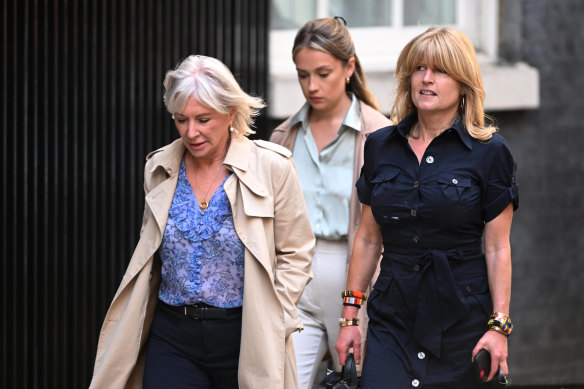 Former British Culture Secretary Nadine Dorries (L) and Rachel Johnson (R) arrives at Downing Street on September 6, 2022 in London, England. British Prime Minister Boris Johnson is stepping down following the election of Liz Truss, the former foreign secretary, as Conservative Party leader.Credit:Getty
He said Putin was deluded to think that bullying and blackmailing would defeat the British people.
He again used humour, pointing to the pets occupying Downing Street, Dilyn the dog belonging to he and his wife Carrie and Larry the cat, adopted by civil servants and a permanent resident of Number 10, as he urged Conservatives to unite, amid the bitter leadership battle.
"I would like to say to my party, if Diyln and Larry can put behind them their occasional difficulties then so can the Conservative party."
He thanked above all the British public for voting him in as Prime Minister, when he defeated Jeremy Corbyn in a landslide in 2019.
Downing Street, which is fenced off from the public and guarded by security, was crammed with MPs and ministers who supported Johnson's reign until the end. They were joined by Number 10 staff, most of whom are slated to lose their jobs, and members of Johnson's family, including his sister Rachel Johnson and his wife Carrie, although not their children.
Jacob Rees-Mogg, the arch-Brexiteer, also expected to stay in Cabinet under Truss, was among the group with his eldest son Peter attended Johnson's farewell.
Two Johnson loyalists, Home Secretary Priti Patel and Culture Secretary Nadine Dorries, have already quit the Cabinet ahead of Liz Truss' official takeover of the job, due later on Tuesday when she meets the Queen in Balmoral.
While Patel, who has failed to get a grip on the record number of migrants crossing the Channel in small boats from France to England, was destined for the sack, Dorries was reported to have been offered to continue as culture secretary under Truss.
However, Dorries refused with expectations Johnson will appoint her to the Lords.
Get a note direct from our foreign correspondents on what's making headlines around the world. Sign up for the weekly What in the World newsletter here.
Most Viewed in World
From our partners
Source: Read Full Article