Backlash prompts St Kevin's to ditch respectful relationships project
Catholic boys' school St Kevin's College has pulled out of a respectful relationships project after parents and students objected to a survey that quizzed boys on issues including sexuality, how they treat girls, and what it takes to be a man.
Boys in years 7 to 12 were sent an extended series of questions last week on their self-image and behaviour, and attitudes about the role of men, as part of a respectful relationships project involving nine boys' schools in Victoria and Tasmania.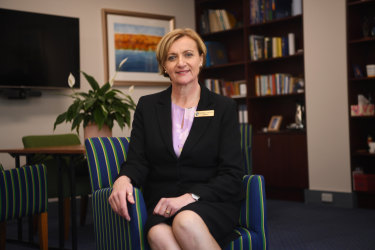 St Kevin's principal Deborah Barker said the school had withdrawn from the respectful relationships study.Credit:Justin McManus
St Kevin's is so far the only school that has pulled out of the study because of a backlash, with students who took the survey also expressing their distaste.
Parents said they were blindsided by some of the more confronting material, and felt it was inappropriate for the school to be asking their sons questions such as if they used a condom during sex and how often they had taken drugs including cannabis and cocaine.
Concerns were also raised about questions the survey didn't ask, such as on the boys' sexual orientation and gender identity.
Students who took the survey were asked to agree or disagree with more than 100 statements, then answer a series of direct questions.
The survey included statements on wellbeing, such as: overall, I am a failure; I sometimes cheat; and I do not like my parents very much.
Other statements on boys' attitudes included: acting manly should be the most important goal for guys; getting made fun of helps guys become tough; being thought of as gay makes a guy seem like less of a man; and if a guy has a girlfriend, he deserves to know where she is all the time.
The boys were also asked how often their father took on household responsibilities such as cooking, cleaning and parenting.
They were asked if they had been insulted or threatened on social media and had made sexual comments to a girl they did not know, and how often they had been drunk, taken drugs and been in physical fights.
The survey for year 7 and 8 students omitted some questions.
St Kevin's principal Deborah Barker told parents on Tuesday night that the college had withdrawn from the project over concern from parents, students and teachers.
Boys who did the survey would be offered pastoral care if they were disturbed by any of the survey content, Ms Barker said.
She said the school had accepted an invitation to participate in the survey as part of its efforts to help boys develop respectful relationships.
"The lessons we have learnt from our community in response to the survey are very valuable to us," Ms Barker said in an email to parents and carers.
"While the EREA [Edmund Rice Education Australia] project has its origins in international and Australian studies, we have decided to withdraw from the EREA Adolescent Men's Project based on the concerns raised by our community. The anonymous data collected from St Kevin's students will be deleted."
The Toorak school of more than 2000 students has reckoned with a series of public outrages in the past two years, including the release of footage of a group of boys singing a degrading chant on a crowded tram, and revelations that its former principal provided a reference to a volunteer athletics coach convicted of grooming one of its students.
The cancelled project is related to a 2020 survey by the Jesuit Social Services dubbed the Man Box, which assessed the attitudes of men aged 18 to 30.
It found that "young Australian men's belief in rigid masculine stereotypes has a stronger impact on whether they will use violence, sexually harass women, or experience mental ill-health themselves, than other factors including their education levels, where they live or their cultural heritage".
Associate Professor Michael Flood, of Queensland University of Technology, who took a leading research role in the Man Box report, said schools should speak explicitly with boys and young men about their attitudes on gender roles, relationships and sexuality.
"There is a really compelling argument for working with boys and young men, and girls and young women, to try to foster healthy relationships, and that does involve sometimes difficult conversations about sex, gender, power and relationships," he said.
But he cautioned that "there are good and bad ways to do that".
"There are ways that will make boys feel defensive, feel blamed, and that's not very helpful," he said. "There are other ways that are more constructive and appeal to men and boys' care and concern for women and girls."
The Morning Edition newsletter is our guide to the day's most important and interesting stories, analysis and insights. Sign up here.
Most Viewed in National
From our partners
Source: Read Full Article